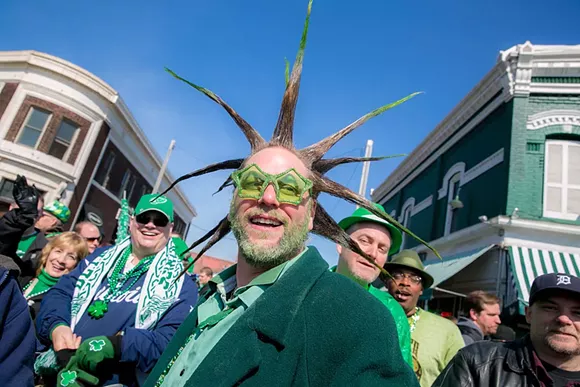 Sunday, 3/12
Corktown's 59th annual St. Patrick's Day Parade
Held the Sunday before St. Patrick's Day, the annual parade draws thousands to Detroit's original Irish enclave. Expect the bars along the parade route to fill with revelers, with traditional pipe and drum bands, floats, clowns, and general mayhem as Detroit sheds its winter blues in a sea of green. Remember: Drink responsibly, people.
Starts at 12:30 p.m.; along Michigan Avenue between Sixth and 14th streets, Detroit; 313-475-4675; detroitstpatricksparade.com; free.
Sunday, 3/12
Corktown Races
Earn that beer. One of the largest 5k races in Michigan, the Corktown Races draw more than 8,000 participants on St. Patrick's Parade Day while raising funds for the Saint Patrick's Senior Center and the KPMG Family for Literacy. Registration closes at 11 p.m. March 10.
Starts at 9:40 a.m.; Michigan Central Station, Michigan Avenue and Vernor Highway., Detroit; corktownrace.com; registration starts at $20.
Sunday, 3/12
Corktown Paddy's Parade Party
The enormous annual bash features an indoor heated tent and outdoor party, a full bar, and food. Entertainment includes live music from Dan Tillery and Dave G, as well as DJ Godfather, DJ Chrome, and more.
Starts at 9 a.m.; Michigan Avenue and Vermont Street; 248-929-1885; corktownpaddy.com; pre-sale tickets are $10, VIP $20.


Sunday, 3/12
Gaelic Storm
The Celtic band is headlining Saint Andrew's Hall the night of the Corktown St. Patrick's Day parade. Gaelic Storm is internationally renowned for their nonstop touring — and that appearance in Titanic.
Doors are at 8:30 p.m.; 431 E. Congress St., Detroit; 313-961-8961; saintandrewsdetroit.com; tickets are $20.
Sunday, 3/12
Corktown Tavern
Tent party at this Corktown institution includes performances by Nina and the Buffalo Riders starting at noon, followed by the Muggs at 1:45 p.m. and the Reefermen at 3:30 p.m.
Starts at 11:30 a.m.; 1716 Michigan Ave., Detroit.
Friday, March 17
Sullivan's Public House
Sullivan's owners will erect a pop-up Guinness bar based on St. James Gate, the original Dublin-based brewery where Guinness was first brewed in 1759. The locally brewed Sullivan's Irish Ale (from Griffin Claw Brewing Co.) will be on tap, and a menu of farm-to-table Irish-inspired dishes will also be available.
7 a.m. to 2 a.m.; 23 N. Washington St., downtown Oxford; no cover.


Friday, March 17
Old Shillelagh
There's a reason the Old Shillelagh has been voted "Best Bar in Wayne County" in our Best of Detroit poll. They go all-out every year for St. Patrick's Day, and this year will be no exception. Detroit Irish-punk-metal-folk band Stone Clover will play sets throughout the day, and a heated tent and a heated outdoor rooftop deck expand the Old Shillelagh's offerings. (See the bar's website for a full schedule, starting with "St. Practice Day" on Saturday. March 11.)
Starts at 7 a.m., 349 Monroe St., Detroit; 313-964-0007; oldshillelagh.com.