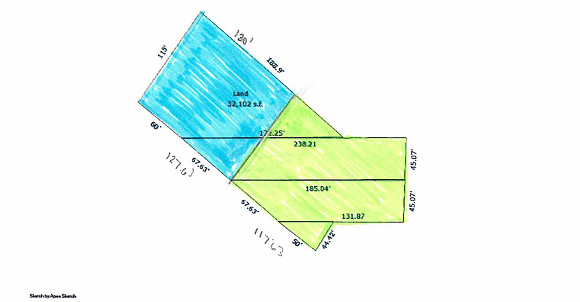 Best known recently as
the city where police ticket you for warming up your car in the driveway
, Roseville is also the site of a new design competition.
The town's DDA says it wants to enlist the help of architects and designers to help come up with a plan for a vacant site in along the city's main business district. The location is where the Tip-Top Tavern, a popular gathering place for Roseville residents, burned to the ground a while ago. Now that the parcel has passed into the possession of the city, the DDA believes "
we should imagine a new type of community gathering place as part of our new town center development
."
The brief requests designs for a pavilion, and articulates that the project "offers us the opportunity to write a new chapter in our city's history. A chapter that isn't determined by what has been, but by what could be."
Roseville's DDA has set up a jury to judge designs, and it seems like a real challenge. The brief seems to seek a design that has every advantage and no drawbacks.
Among the body's major concerns are "ensuring the integration of the project site with the surrounding area." We assume this means that it should have an open, welcoming feel, so that people feel drawn to it. In other words, it should appeal equally to the new ager wandering out of Akashic Books, the drunken nonagenarian staggering out of the nearby American Legion, the rim-loving customer parking behind Gratiot Wheel and Tire, and even the guy mysteriously clutching a box and walking out of the taxidermy shop. (On the other hand, the pavilion should have some sort of barrier separating it from the residentially zoned subdivision behind it. On that front, it should not be welcoming. Or loud.)
According to the brief, the pavilion should be many things — almost too many things. It should be a focal point, a catalyst for future transformations. It should also take a sensitive approach to the site context. It must have a three-sided kiosk. It should be financially and logistically feasible, with built-in potential to hold fundraisers to raise more money to improve it in stages. It should foster the arts. It should enhance livability for residents and encourage newcomers to the area.
In short, it should do absolutely everything. (Except annoy those neighbors on Victor Street.
If you're wondering why we seem to be giving Roseville's DDA the business here, yes, we kind of are. For a couple reasons.
First of all is the way DDAs aim to use design to accomplish goals that should rightly be policy goals. On the ground, this often means giving an area the trappings of an upscale community to disguise the fact that a community is facing serious problems. And this isn't a criticism aimed solely at Roseville's DDA; it's something DDAs do across the country.
Of course, hoping that a silver-bullet project can take Roseville's historic downtown and "reinvent," "transform," or "revitalize" it makes sense, right? After all, it's the DDA's mission to address and prevent deterioration within the business district.
But you know what enlivens business districts? Businesses do. And in hard-hit Macomb County, not as many people want to open businesses thanks to the flagging fortunes of its renters and homeowners. Official unemployment is 6.3 percent, though who knows how many have fallen off the rolls after their unemployment ran out. Median household income is where it was almost 20 years ago. Since 2006, single-family new house construction permits have fallen into the single digits.
That said, one of the surest ways to reinvigorate a fading business district is to have it embraced by an immigrant group or two: They've effectively taken a fading, graying strip of Conant Street in Hamtramck and Detroit and turned it into their own "high street," with scores of shops, eateries, pharmacies and more. Mexican immigrants have done the same with West Vernor Highway and Michigan Avenue in Detroit, and that energy is now spilling over into hard-hit Lincoln Park. (Yes,
immigration causes economic growth
!)
In this way, the Roseville DDA's request for a plan is nothing new. Absent policy decisions, DDAs often decide to give their cities a little shine in lieu of substance. But how much good can a little spit-shine do in the long run? Hamtramck's DDA helped beautify Joseph Campau more than a decade ago, and it's still full of vacant storefronts. (Some believe the biggest continuing obstacle to its redevelopment is
a stubborn landlord
.) Meanwhile, Conant, without any splendorous improvements, has more storefronts full thanks to — again — immigrant communities investing their money to start businesses.
So why gun for the Roseville DDA for something that DDA's do all over the country? Well, a deeper problem is the way the "contest" is being conducted. And when it comes to the problem with design competitions, we can't do any better than Connor Tomas O'Brien, whose
critique of them
still rings true. (He says it all better than we could; click on the link and have a look.)
Note well the wording in the contest literature that "all concepts submitted become the property of the Roseville Downtown Development Authority." In other words, whatever is submitted to the authority becomes, essentially, the authority's property. The authority may pursue the design with the winner, or with other design groups. The firm may, in fact, choose to exhibit all the materials, or publish them. If any of the people who did the hard work of designing for the contest want to show the work they created for this competition, it is
they
who face the requirements: Their designs must include the name of the competition, project location, and the name of the Roseville DDA.
If you ask us, that's sort of overkill. It's already hard enough to be an architect or urban planner without this sort of stuff. Why doesn't the Roseville DDA simply have a
design charette
, in which the various stakeholders in the neighborhood are asked what they'd like, and those desires are integrated into a plan? Too much hard work?
OK, heaping all these criticisms on a seemingly well-meaning nonprofit probably comes off as harsh. But with all apologies to the Roseville DDA, we don't think you improve a community by abandoning the first rule of leadership: Never ask someone to do something you wouldn't do yourself.
Registration deadline for the contest is March 22, and the project submission deadline is March 28. For more information, see here and here.