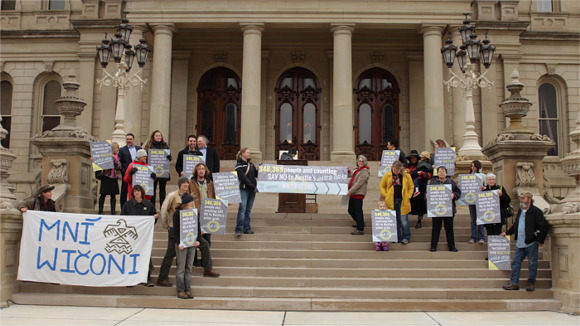 This morning at 11:30 a.m., environmental activists delivered more than a quarter of a million signatures to the Michigan Department of Environmental Quality on the Capitol steps in Lansing. The signatures were for a petition urging rejection of Nestlé's pending $200 permit to pump 210 million gallons a year from its White Pines well in Osceola Township.
Actually, it was a lot more than a quarter of a million signatures. The total was more than 345,000 signatures to a petition calling on MDEQ to protect the Muskegon River Watershed from increased pumping at the well known as PW-101.
Thanks to sustained pressure, the DEQ had extended public comment on the proposal until March 3. That was after a bit of adroit reporting discovered that MDEQ had "notified the public of its right to comment" in an obscure departmental calendar not widely read outside the agency. Thanks to the extended deadline, more than 21,000 residents have submitted comments directly to the MDEQ.
The president of Michigan Citizens for Water Conservation, Peggy Case, said, "We are requesting six public hearings to focus on the statewide disconnect between Nestlé takings and the shutoffs in Detroit and poisoning in Flint, as well as the flaws in state law related to water resources. We are opposed to any further withdrawals from the watersheds that all feed into the Great Lakes and insist that the State of Michigan honor its public trust responsibilities to protect our water from corporate theft."
For its part, Nestlé says increased pumping will not harm the environment, and insists upon the company's eagerness to conform to the law. Through a spokesperson, the company said, "Nestlé Waters supports the state of Michigan laws that protect the environment and other water users. Our application meets all of the state's applicable legal requirements for groundwater withdrawal. These laws were shaped in 2006-2008 with input from a variety of stakeholders within Michigan, including respected environmental groups, technical experts, and many others."
Nestlé's operations in Michigan, and the plan to boost pumping, were the subject of
a Metro Times cover story in December
.
The petition can be viewed here.
View the petition
here
.