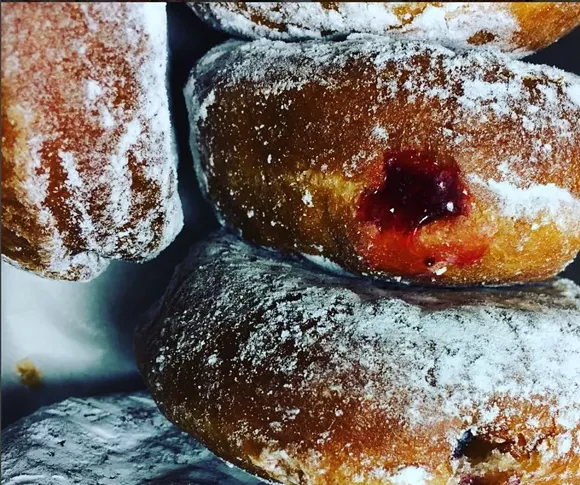 While this Tuesday may just be any other ordinary Tuesday, to some it is the beloved Fat Tuesday where we devour boxes of paczki, the delicious Polish treat filled with jam, custard, or in some cases,
a coney dog
.
Sure, you could stop at your local Meijer or Kroger to get a box of the treats, but authentic and homemade is so much better. So if you want to munch of the yummy treat tomorrow, here are a few places where paczki can be purchased.
Hamtramck:
Bozek's Market
— 3317 Caniff St., Hamtramck; 313-369-0600.
New Martha Washington Bakery
— 10335 Joseph Campau Ave., Hamtramck; 313-872-1988.
New Palace Bakery
— 9833 Joseph Campau Ave., Hamtramck; 313-875-1334
Small's
— 10339 Conant St., Hamtramck; 313-873-1117.
Detroit:
Dutch Girl Donuts
— 19000 Woodward Ave., Detroit; 313-368-3020.
Sister Pie
— 8066 Kercheval Ave, Detroit; 313-447-5550.
Avalon
— 422 W. Willis St., Detroit; 313-832-0008
Ann Arbor:
Big City Small Bakery World
— 500 Miller Ave., Ann Arbor; 734-668-7688.
Dimo's Deli and Donuts
— 2030 W Stadium Blvd.; Ann Arbor; 734-662-7944.
Downriver:

Vinewood Mexican Bakery
— 988 Vinewood St., Wyandotte; 313-610-4274.
Ferndale:

Apple Fritter Donut Shop
— 741 E. Nine Mile Rd., Ferndale; 248-545-7295.
Macomb:

Willie's Donuts
— 23055 21 Mile Rd, Macomb; 586-949-8755
Uber:

That's right, friends. The car service will actually deliver a box of paczki to your house if you can't be bothered to step into the real world.
To see our full list of places serving up paczki on Fat Tuesday,
click here
.