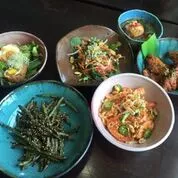 The four-year old Maccabees at Midtown just never seemed to catch on. With food and a concept that felt flat and tired, its dining room rarely filled up, and it's one of those places that didn't come up in conversation.
Those issues could be a thing of the past when the restaurant relaunches on March 6 as Maccabees Traders.
According to a press release from the new owner, Maccabees 2.0 will offer dishes that are "Asian-inspired with a Detroit twist," and the revamp will be led by new Co-owner and Operating Partner David Kraus, a Detroit-native restaurateur returning to southeast Michigan for the project. Kraus is best known as the man behind the James Beard-nominated Shibumi in Los Angeles, and his L.A. and Chicago restaurants regularly land on "Best Of" lists.
He enlisted Chicago native Rafael Esparaza to serve as Macabees Traders' executive chef. Esparaza's resume includes Chicago's Momotaro, Yusho, and Kimski, as well as LA's Shibumi, where he and Kraus met and worked together during its 2016 opening.
On the menu, expect what one might from contemporary Asian fusion - sharable starters, salads, sandwiches, and entrees with "prominent Asian influences" such as Vietnamese fish-sauce chicken wings, pork or duck buns, shrimp bahn mi, and green papaya salad. The fare also includes "several nods to Detroit," including Vernor's glazed thit kho (pork belly), and grilled tofu steaks with zip sauce.
"Detroit's culinary scene has catapulted to the national stage as a dining destination, so to return at such an exciting time and build on that momentum by introducing Maccabees Traders in the heart of the city is rewarding," Kraus said via a release. "Our primary goal in developing the concept was to maintain a degree of continuity in respect to the space while elevating the menu's offerings to combine Asian cuisine with the soul of Detroit to offer an approachable and memorable dining experience."
Kraus and Co. are also planning "aesthetic enhancements" to the 110-seat dining room that jive with the new concept, including an expanded bar area, exposed windows, updated decor, and auburn lighting.