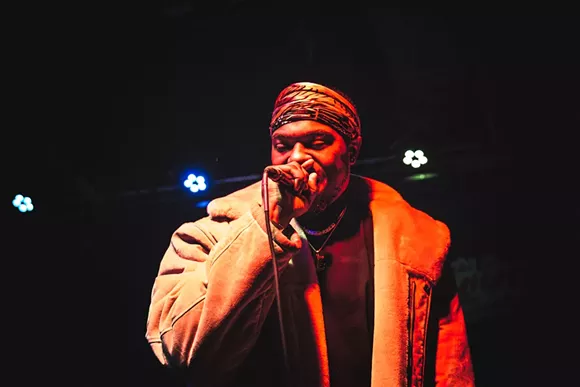 The only words on MotorKam's SoundCloud page (soundcloud.com/motorkam) are "I make what I want," followed by his contact information. If you've been paying attention to local hip-hop, those words by the up-and-comer will likely come as no surprise. On his latest project, Kam has adopted an entirely new identity, so we had to catch up with him to find out more.
Metro Times: Where does the name "MotorKam" come from?
MotorKam: When I started rapping, my name was MotorCityKam. My thoughts have always come rapidly, like a motor. And being fortunate enough to travel early on, I felt the need to advocate for Detroit's culture in out-of-town settings. As time went by, I dropped the "City" out of my name because it was easier to say in songs when I rapped.
MT: How long have you been doing music now? And what instruments do you play?
Kam: I've been a creative person long before music was a thing for me. I attended this school called Detroit Open, which excelled at honing creativity in diverse forms of expression. I didn't think about rapping until my junior year in college at Western Michigan. But I was a natural at it. I played clarinet in middle school, and I became a slightly below average keyboard player after taking a few classes in college.
MT: What was the concept behind your just-released album, BlackDaddy: Greatest Hits?
Kam: That's a loaded question [laughs]. But in short, "BlackDaddy" was an alter ego given to me from my brother Johnny Origami this past spring after my friend MuzzyBearr introduced me to the electronic music festival scene. Taking in all of the interesting sounds from new artists I was hearing, it encouraged me to take the frame off the wall and let my picture expand beyond a rapper's portrait. I began to recount the things that stood out from my younger days while listening to my grandfather's tapes. Combining that with my new electronic interest and my foundational rap trade, the BlackDaddy sound was born.
I spent a large part of this process mentally crafting the image of who BlackDaddy is. My mind would be flying a million miles per minute creating this world behind the name, and the wildest ideas would come out. A large part of BlackDaddy's mystique is his playful, sexual, smooth, and sometimes comical confidence. So, while throwing out a bunch of goofy ideas I thought, "Why don't I call my first album BlackDaddy's Greatest Hits?" Who in their right mind would call their first release a greatest hits album, right? It goes deeper, though. Naming it that allowed me to go at every song like a single from different projects. And when the recording was done, the cohesiveness was already there.
MT: Who helped you produce and arrange it?
Kam: Bobbi Lasso of Tucson, Kaido the Beast, and I — we are the holy trinity of production on this album. We would all work on beats together; the ones we did separately, we would bring to each other, and work on them. I wrote, recorded, arranged, mixed vocals, and did artwork myself. Fun fact: Four of the 10 beats were made in the car, while Lasso and I drove around Detroit in the middle of the night.
MT: On the opening cut, "BlackDaddy," you implement some Detroit ghetto-tech.
Kam: Kaido and I spent the whole day trying to make another beat. In the last 30 minutes, right before we were about to quit for the day, I began to play that 808 pattern. I turned to Kaido and said, "This reminds me of those nights my mom would pick me up from my grandma's house and the radio station would be broadcasting from the club." Kaido put his magic on the drums and we kept building on top. I wanted to touch on a part of Detroit culture so important to the city's history but rarely used in unison with modern rap.
MT: In "1(800) BLKDADY" and "Red Light," you use heavily synthesized voices. Has that always been a part of your musical arsenal?
Kam: It's a relatively new thing, actually. When BlackDaddy was created, I wanted a way to separate MotorKam from BlackDaddy (MotorKam being the traditional rapper); after a lot of experimentation I found something that worked for me, and it made for an interesting sound when I animated my voice.
MT: Throughout the album I can hear old-school funk, Prince, Danny Brown, and house music influences. Is that accurate? Who are your main music heroes?
Kam: Pretty accurate. The list is too long to name when it comes to who spiritually had a hand in this album but some of the standouts are Morris Day, Cybotron, Kendrick Lamar, TRL-era pop songs, Eminem, Egyptian Lover, Parliament-Funkadelic, and DJ Godfather, to name a few.
MT: It's hard to put this album in a category. It's kind of like Childish Gambino meets Raury meets Van Hunt meets George Clinton with a little EDM. Are you worried about that, at all? Sometimes it's easier to promote music when it fits into an obvious box.
Kam: I think the ambiguity of the record is one of its greatest strengths. It truly speaks to my diverse musical taste, and I believe people will gravitate to it because it is a different sound than what's flying around here. But, most importantly? It's a good album. I'd rather people not know how to describe it and listen to it, than it being lost in the sea of music that sounds the same — that happens a lot in Detroit.
MT: How do you feel about the current Detroit hip-hop and music scene?
Kam: I see it as two giant trees in the park — one tree was planted from the seeds of Blade Icewood, and the other Dilla. For a long time, you would see people hanging under one of the trees and sticking solely to that one. It's good seeing a new tree being planted from people who enjoyed the fruit of both. It's also such a great time to be an artist in Detroit. I feel like the music scene is mirroring the growth of the cool spots in the city. It seems like consumers are venturing into local outlets to see what the city is turning out, which restores a sense of pride to the scene. I also dig the national looks we've been getting recently. But, just like our city, even the good news is a reminder we still have work to do.
MT: What's in the future?
Kam: Expect videos, a tour, more quality live shows, a MotorKam album, both electronic and hip-hop collabs, merch, and lots of other things. We're just getting started. I ain't ask for this — I was chosen.