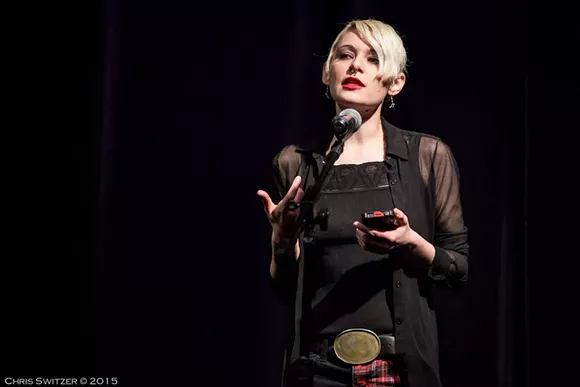 Most marriages don't last 30 years. And marriages begin with two people looking at their whole families, an officiant of some real or implied stature, and each other, and swearing to stay married until a doctor turns off the ventilator and fibs about being sorry.
The Erotic Poetry and Music Festival, which will take place this week, was started 30 years ago by two '60s counter-culture leftovers, marijuana rights activist Marvin Surowitz and poet and carouser "Righteous" Bob Rudnick with a $500 grant from the Detroit Arts Council and the vague hope of Rudnick that he'd impress a girl named Jenny. Originally held at seminal Wayne State hippie enclave Alvin's, after three decades and half-dozen venues, the Council has gotten a whole lotta "bang" for that buck. They also got countless utterances of words like "caress," "loins," "moist," and "throbbing."
Bequeathed 18 years ago to Static Network impresario Sue Summers by then-Alvin's manager Bernadette Kurkowski, the show saw Sue taking the reins (and the bondage pants and the ballgag) and running it, figuring it would be a temporary stewardship.
"When I was asked to keep the show going I really didn't expect it to last as long as it has!" Summers says. "It's great to see the audience reactions, as they don't know what to expect. At first, they are timid, and by the middle of the show they are cheering for more."
And the audience is so devoted that the festival became not only a self-supporting entity, but a benefit, with some of the profits donated to charity, most notably Paws with Cause, which provides custom-trained assistance dogs for people with disabilities. (A little "serve" to go with the "perv.")
Highlights of the anniversary show are the return of Queen Bee to the stage, back for a debut solo performance of three new songs of her own "Erotictronica" music, as well as the return of Detroit performance artist Satori Circus, crooner Konrad Lee, and yours truly, Jimmy Doom, as spoken word raconteur. There's also a lively visual arts portion of the show, which will feature six artists exhibiting their work, as well as a variety of local vendors displaying their wares.
With apologies to the Woodstock era love children who started the event, this begs a Jean-Luc Picard meme: "How the fuck does one turn a profit at a poetry show?" Poetry isn't the red-headed stepchild of the performing arts, it's the one-night-stand spawn carried to term on your cousin's farm in Manitoba and given up for adoption. Whatever minute percentage of Americans that can name three contemporary American poets off the top of their head would probably name the not-made-for-porn ménage-à-trois of Charles Bukowski, Maya Angelou, and Henry Rollins. And even though everyone knows that sex sells,there is more to it than that. In the early days of the festival, it was easier to figure out. There was no Dirty Show, burlesque wasn't performed everywhere but Kroger and Sign of the Beefcarver, you still had to go to a room with a curtain in an indie video store to rent the latest double-anal-penetration titles and the pizza delivery guy was the only job where you could get pissed on by Russian models. Now, with virtually every niche NSFW fetish video available on one's phone, why do people still pay money to sit in a room full of strangers for a barrage of OMG TMI?
I've been performing at the festival for the better part of two decades, and — having been asked this question dozens of times — my answer to its popularity is this: I think it has the same appeal as the X Games, ESPN's extreme sports competition: It's fun to watch some maniac do backflips on a snowmobile 60 feet in the air even though you could never do it, and it's fun to watch someone who has the unmitigated chutzpah to stand on a stage and talk about what is happening (or what they would like to happen) in their bedroom, bathroom, hot air balloon, or on the hood of their neighbor's Impala. After all, public speaking is the No. 1 fear in America, and that includes the banal stuff like a Harry S. Truman report for community college and a presentation in front of the Tri-County Window Treatment Dealers association (though I'm sure they're a fabulous group of people with a strong libido in their own right). When an otherwise average Detroiter rips open the proverbial curtains to their intimate desires and realities, it has an aura of vulnerability that you just don't get from watching doggy-style performed by a fitness instructor whose manhood looks like it got left behind at a caber toss.
Surowitz and Rudnick conceptualized the Festival in the very, very embryonic stages of the independent coffeehouse boom. I remember attending open-mic nights at tiny storefront joints bathing in clove cigarette smoke while people would drone on about pet political causes, their prize sunflowers, or thinly veiled cries for psychiatric help. The Erotic Poetry fest eliminates much of that; you get multiple personalities all fondling the same topic from enough angles to win the Nude Crisco Twister Winter Nationals. No politics or other topical digressions are allowed, even from long time performer Scott Boman, better known for his Libertarian pyrotechnics in local government. Granted, 15 seconds into my set, you'll be certain I need psychiatric help, but at least I'll be talking about genitals. Not everyone has a snowmobile, but everyone has genitals.
The 30th Annual Erotic Poetry and Music Festival opens its doors at 8 p.m. and begins at 8:30 p.m. on Feb. 25 at Tangent Gallery and the Hastings Street Ballroom, 715 E. Milwaukee St., Detroit; 313-873-2955; $15 at the door, $10 in advance; 18 and older only.