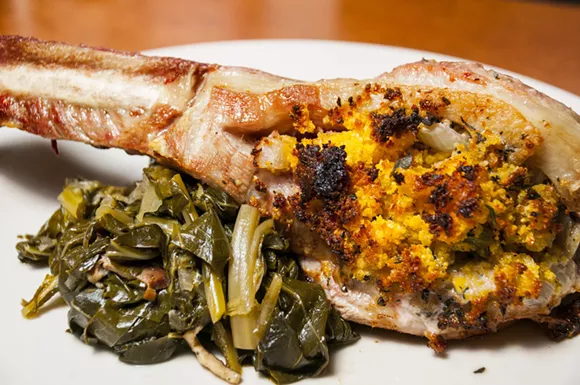 Zingerman's Roadhouse is the wing of the Ann Arbor-HQ'd Zingerman's empire that focuses on comfort foods and American classics done to the brand's always respectable standard.

The Roadhouse's special this month is a pork chop dish. As we all know, pork chops are a mild cut that can leave something to be desired in the wrong hands. But five-time James Beard-nominated executive chef Alex Young achieves comfort food bliss in his Cornbread Stuffed Pork Chop. Young and sous chef Brandon Clark were kind enough to share the recipe and show us how it's made. Their hogs are raised at Cornman Farms in Dexter, the herbs picked from its garden, and all the ingredients are locally sourced. The recipe is easy and tasty enough that it should be your new go-to pork chop plate.
See photos of the chops and their preparation
here
.
Recipe:
6 pork chops, approximately 1¼ inch thick.

For the cornbread:


¾ cup sifted all purpose flour
2 ¼ cups yellow cornmeal
1 ½ tsp kosher salt
6 fl. ounces sugar
4 ½ tsps baking powder
4 ½ ea eggs, well beaten
1 ½ cups buttermilk
3 fl. ounces of 2% milk
½ cup melted butter, unsalted with additional unsalted butter for greasing the pan

For the stuffing:


1 large white onion, medium diced
4 stalks celery, medium diced
2 sprigs each of savory, thyme and sage, minced
Salt and pepper to taste
Butter for sautéeing
Preparation:
Preheat the oven to 350 degrees.

1. Sift all the dry ingredients together in a mixing bowl.
2. Add the eggs, buttermilk, and milk, and beat with a wooden spoon.
3. Beat in melted butter.
4. Pour into a well-buttered 9 X 13 inch pan, and bake at 350 degrees for 15 to 18 minutes.
5. Set aside to cool.
6. Once cooled, cut the cornbread into approximately ¾ inch cubes.
7. Sautée the onion, celery, and herbs in butter over medium heat until soft.
8. Toss the cornbread cubes together with the onion and celery mixture.
9. Split the pork chops down the middle and stuff with the cornbread mixture.
10. Sear the pork chops in a cast iron skillet over medium high heat until they are browned on both sides.
11. Bake the pork chops in a 350 degree oven for 15-20 minutes. (May take longer in a conventional oven).

Yield: 6 pork chops

(A slideshow with photos of the dish and preparation is here.)