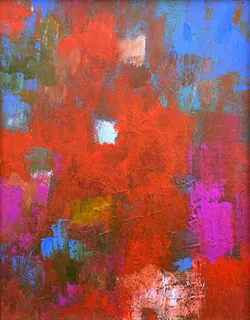 It takes a lot to be thought of as an institution, an element so integral to a community that it's impossible to imagine it not being there. Sometimes it's a building, or a business, or even a natural feature — in special cases, it might be a person. Longtime Cass Corridor resident John Brown is one such person, and in his long years as a resident of Midtown — long before it was called Midtown — he's become a kind of institution around the Cass Corridor and Woodbridge.
Brown is known for many things: his love of gardening, his unflagging patronage of Avalon bakery, his tendency to engage in lively conversation with strangers-turned-friends, his appreciation of wine as a cultural heritage — but he has also nurtured an inter-media art practice alongside the quotidian responsibilities of supporting and raising his family. This creative side, previously only glimpsed by his participation in group shows or one-on-one exchanges with other creative souls, will be on wider display for the first time in a large exhibition of Brown's work, set to open Saturday, Feb. 4, at the Cass Cafe.
It is fitting that the Cass Cafe, a Corridor institution in its own right, is the location for Brown's first solo show and major retrospective.
"So many artists have grown up through Cass Cafe, so it's a privilege for me to get involved there," says Brown at his Woodbridge home, where he and his wife Ruth have lived and raised their family for more than three decades. The exhibition was organized by another artist and Cass Corridor stalwart, Robert Sestok, who developed a close relationship with Brown over their regular early morning encounters at Avalon.
"I didn't meet him until five years ago," Sestok says. "We would have coffee and he talked about Brown Park — I realized I knew him from back in the 1970s." Brown Park was a little plot of land next to an apartment building at Cass and Ferry, where Brown and his wife lived in the 1970s before moving to Woodbridge. Brown took it upon himself to convert the lot into his personal park, and would hold court there, talking to passersby and visitors. "He is a Cass Corridor mainstay," Sestok says. "But he was always a little outside the mainstream."
While most Cass Corridor artists of the time were interested in industrial salvage, gritty aesthetics, and contemporary questions of value, Brown's interests and practice remained firmly focused on classical influences. "I was influenced early in my life by Rembrandt — his drawings," Brown says. "Everyone likes his paintings, but his drawings and etchings are wonderful."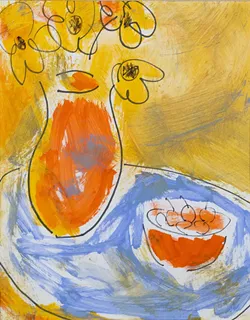 Throughout his painting practice, Brown has remained open to study and influence, drawing much inspiration from Italian landscape painters and English romanticist painter J.M.W. Turner for an ongoing series of moody landscapes in simmering, muted tones; and perhaps inspired by mid-century Italian still life specialist Giorgio Morandi for his many studies of flat-perspective bottle arrangements. Born in Canada and living most of his life in Michigan, Brown traces some Italian heritage, and the sensibility is visible in many bodies of his work, selections of which will be included in the exhibition.
Even in his later painting, Brown remains open to influence, describing a day just before Christmas in 2012, when Sestok gave him a 9-by-12-inch copper plate: "I said, 'What's this for?' and he said, 'You're going to make an etching,' and I said, 'I am?'"
Brown's devotion to his creative practice has always been juggled with the responsibilities of family life, working long-term at Lelli's Italian Restaurant, followed by a long run of years at R. Hirt Jr. Co. in the Eastern Market. Meanwhile, his children Caitlin and Jack grew up in Woodbridge, and Brown continued his tradition of cheerful outreach, gardening, and creative practice within the neighborhood. The main room of the Browns' home on Commonwealth is part family home, part gallery, part library, and part conservatory, showcasing the intersection of the great loves of Brown's life.
Most recently, Brown's painting has taken a new turn, one that he attributes to an operation several months ago, addressing a health condition that continues to impact his life. Brown's early work was reflective of his pursuits as a student of painting, looking at different styles and adopting them, but this new work feels more experiential, drawing from his own vision in a different way.
"Some of these, recently — maybe because of my treatments and everything, I started doing things that were totally different," Brown says. The works in question are brilliant intersecting color fields — both more abstract and more vibrant than much of his previous work.
Brown is perhaps better known for his poetry, much of which meditates on the spirit of the everyday and its miracles that surround us. As Brown draws inspiration from his fellows and surroundings, he has served as inspiration for others in his orbit, from his Cass Corridor days through more recent acquaintances. Fellow Avalon regular and poet Joey Chan describes Brown's presence at Avalon.
"Every day, for the last 10 years, I've seen him at Avalon," Chan says. "In the winter, he helps to shovel snow. In the summer, he does the flower planters out front." Chan says his conversations with Brown have inspired him to pursue his own poetry. "We talk about poetry, we talk about cheese, and we talk about life ... his poems have to do with nature, they have to do with wine, they have to do with love."
With Brown's recent health problems has come a sense of urgency to recognize his contribution to art and life in the Cass Corridor, and the show at the Cass Cafe promises to be a celebration of both the man and the work. Brown's affability, loyalty, and general goodwill toward others leaves a legacy everywhere he goes, captured well in this snippet of a work in progress by his friend, attorney, and poet Robert McClellan:
John Brown's body ain't just ready for the grave
John Brown's body ain't just ready for the grave
For I saw him walking yesterday
Across the Lodge freeway
Alive as you and me
With his red parka, books, pencils & all
A serious grin upon his face his eyes fixed far ahead
Old Detroit and new is full of linguistic divisions — those who call the events of 1967 "riots" versus "the uprising," or those who instinctively refer to Tiger Stadium instead of Comerica Park — and perhaps the most telling is the difference between "Midtown" and the "Cass Corridor." One thing is sure: Brown is a fixture of the Cass Corridor, and the Cass Corridor knows how to celebrate its own. The opening will surely be an outpouring of love and appreciation for a man who remained tirelessly devoted to his family, his community, and his city. Old guard or new, you won't want to miss it.
John Brown: Paintings & Drawings opens from 7 p.m.-9 p.m. on Saturday, Feb. 4 at the Cass Cafe; 4620 Cass Ave., Detroit; 313-831-1400; casscafe.com; runs through Feb. 25.