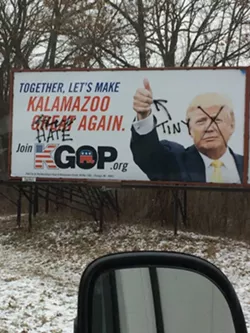 While many people took to the streets to protest President Trump and his executive order to ban refugees from entering the country in seven Muslim majority countries, someone (or a group of people) decided to
deface a billboard in Kalamazoo
to tell an uneasy truth.
The sign was paid for by Kalamazoo Republicans and shows Donny giving a "thumbs up" sign while "Make Kalamazoo Great Again" is proudly flashed next to his head. Frankly, we think former WMU football coach P.J. Fleck made Kalamazoo great again, but that's neither here nor there.
The now defaced sign has the word "great" crossed out and the word "hate" spelled out beneath it. They also put a giant X on Trump's face and pointed out the fact that Trump has tiny hands.
Kalamazoo Republicans responded to the defacing saying it aligns with "violence and vilgarity" from the left.
If you feel so inclined and would like to help restore this billboard, contact chair and Kalamazoo County Commissioner Scott McGraw at (269) 548-7004 or email him at
[email protected]