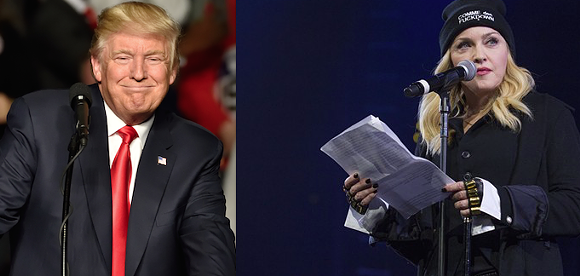 What do Rosie O'Donnell, Bette Midler, the idea of Hillary Clinton using the bathroom, and Madonna all have in common? Oh, that's right! They've all been called "disgusting" by our President.
Lovely!


Trump took a break from trolling the Internet (and our lives, frankly) to do
an interview
with his favorite station Fox News to talk all things presidential. You know, stuff like waterboarding, a giant wall, and of course, Madonna.
Trump sat down with Sean Hannity and Madonna's comments at the Women's March really got under his skin. Trump told him, "Honestly, she's disgusting. I think she hurt herself very badly. I think she hurt that whole cause."
In case you missed it, Madonna gave a speech at the
Women's March
last Saturday and said, "I'm angry. Yes, I am outraged. Yes, I have thought an awful lot about blowing up the White House. But I know that this won't change anything. We cannot fall into despair. As the poet W. H. Auden once wrote on the eve of World War II, 'We must love one another or die.' I choose love. Are you with me?"
Saying that you've thought about "blowing up the White House" didn't sit too well with a lot of people and the singer has received a ton of backlash since the march. Madonna clarified her statement on Instagram shortly after her speech saying, "I am not a violent person, I do not promote violence, and it's important people hear and understand my speech in it's entirety rather than one phrase taken wildly out of context."
We do agree that Madonna could have used some better words to form her metaphor for frustration and anger (may we suggest saying she wants to punch Nazi's instead?) but we also find it hilarious that they White House bombing is what really upset him, and not when she told him to "
suck a dick
."