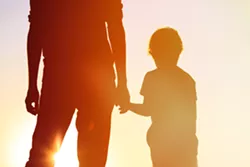 "Stereotypes about childcare are changing on their own, we're just trying to change them faster," says Leon Walker, an executive director of the Annual Father's Conference to be held in Waterford tomorrow afternoon.
While there's no doubt there's great disparity and some seriously divisive gender roles involved in parenting, Walker says many modern dads are becoming more active in not only child rearing, but also the greater conversation about fatherhood's role in a child's life.
"Dad's historically and currently aren't as involved in child-rearing and we're trying to create awareness," Walker says. "We're trying to change that perspective and open up the world of parenting to dads."
The conference, which will be held at the Oakland Schools Education Service & Conference Center from 8 a.m. to 3:10 p.m., is all about recognizing the modern dad.
The conference will be made up of workshops, including a presentation by Laurel Blume Ruth Ellis Center about raising an LGTBQ child, managing anger, ways to express love, and how to talk to kids.
Walker says this conference, which welcomes dads, grandfathers, uncles, mothers, and aunts, will help serve a need that's not being met in the community.
"Dads are not being served elsewhere," he says. "There is is not enough out there for dads right now."
If you'd like to learn more or join the conversation about the importance of a father's role, you can click
here
.