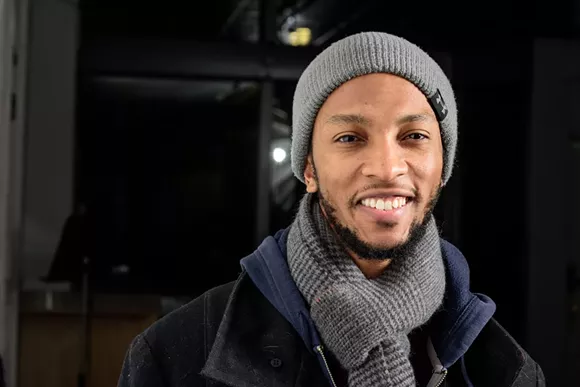 27-year-old saxophonist Marcus Elliot isn't truly a new face on the scene. He's been performing professionally in the Detroit jazz community since he was only 15 as bandleader of the Marcus Elliot Quartet (currently including Michael Malis on piano, Ben Rolston on bass, and Stephen Boegehold on drums) for 8 years, and has self-released two albums of original material in the process — the early project Looking Forward in 2010 and 2015's When The City Meets the Sky, a work he considers a letter of gratitude to the city of Detroit.
His rise has been marked by a focus on not just performance but composition and education as well. An early start giving saxophone lessons at age 14 eventually lead to, among many other things, directing the Detroit Symphony Orchestra's Civic Jazz Band in his early 20s to his current role as Artist-in-Residence at Troy High School. This is all on top of regular live performances and composition, his true passion. Elliot doesn't seem to ever stop moving — proof that Detroit is still very much a fertile breeding ground for a genre as steeped in its own musical legacy as jazz.


2017 is already shaping to be a busy year for Elliot. First, he has a new EP coming out in the spring, followed by an album with new group Balance (a project with pianist Malis) in the summer. In addition to that, his 4-year-long weekly residency at Cliff Bell's will be coming to an end in May. To honor the occasion, special guests will sit in every month leading up to the final performance. Guests include friends and mentors like Dwight Adams on trumpet, Marion Hayden on bass, the trombonist Vincent Chandler, and one of his teachers from Michigan State University, the saxophonist Diego Rivera.
Elliot has found great inspiration in many prominent Detroit saxophonists: the great Yusef Lateef, the lesser-known Sam Sanders, Donald Walden ("holder of the bebop tradition," in his words), and Faruq Z. Bey, who Elliot refers to as a missing link in the jazz of the '80s. Elliot never did get to play with Bey, who passed away in 2012, but his influence and effect on him — we are told, is deeply evident on the EP that comes out in the spring. We can't wait to hear it!
— Ana Gavrilovska
Back to 2017 Detroit bands to watch