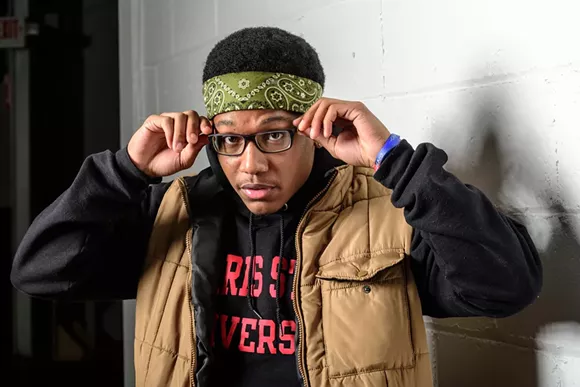 The seeds of hip-hop were planted in Oshea Davaun from his very beginning. After all, he was named after O'Shea Jackson Sr. — better known as Ice Cube — and grew up watching his father and his friends rap. Last September saw the release of the Detroit rapper's debut album, Motor City Rose. The title stems from The Rose That Grew From Concrete by 2Pac (itself a reference to rough upbringings).
In a short documentary accompanying the album, the Detroit rapper looks back on life in his old neighborhood. Having been involved in a handful of near-death experiences in his youth has not only hardened the emcee, but given newfound meaning to his life which is expressed in his work. The foreboding "Nightmare on Pelkey St." most fully captures this feeling of unease: "I gotta feeling that I float around death," Davaun dreads. "Lord tell me, will this be my last breath?"
These threats persist in different manifestations across the album —Davaun dodges bullets on the buoyant "Buchanan View," pleads for his life at the hands of paranoid white cops on "Don't Shoot," and faces a fearsome inter struggle on "Man in the Mirror." Davaun rapper steadily builds character throughout the duration of the album; rather than sulking over all his problems, Davaun stands tall and finds the strength to seek solutions and overcome hardship.
Davaun went on to study Music Industry Management at Ferris State University in Big Rapids. Back in April, he played the school's new annual Music Takes Action benefit concert, joining the bill with Lupe Fiasco for his biggest show to date. While only having played more intimate shows at house parties in the past, Davaun intends to tour more extensively across the state in the future, beginning with a show at the Detroit Institute of Music Education in February.
Davaun plans to release more music this year. His sophomore album, 'Til My Petals Wilt, will serve as a continuation to the story of Motor City Rose. Considering how far he's come from his humble beginnings, Davaun's rose has sprouted far beyond the concrete and blooms vibrantly in the face of adversity.
— John Struman