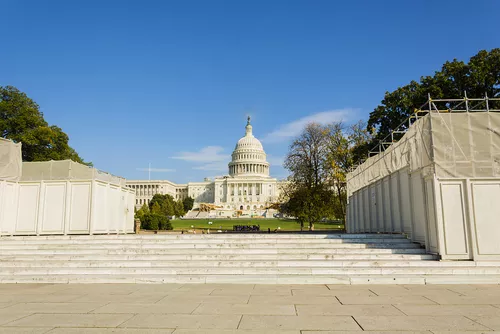 There will be (or should be) plenty of soul-searching this weekend as the Democratic National Committee meets in Phoenix. It's the first in a series of forums leading up to the election of the party's new leaders next month.
It will likely be an interesting marketing exercise, as party members cast about for new leaders to energize voters, even if core of the party remains a bunch of cheerless warmongering cyborgs.
But some Democrats will be thinking bigger than just slapping a happy-face on the party. Some people seem to be arguing for a total teardown, and a rebuild from the bottom up with the people's interests in mind.
One of them is the guy largely credited with rebuilding California's Democratic Party: Phil Angelides. Angelides suggested in
a piece in Politico
that the entire party move its headquarters to Detroit.
I can think of no better way for the DNC's new chair to signal a fresh start than by setting up the party's headquarters in Detroit, Michigan—not Washington, D.C.—in the heart of the industrial Midwest, where the now-shattered Big Blue Wall once stood as a symbol of Democratic strength.
It just sounds bizarre to us. In fact, it sort of reminds us of
the 1991 film flop
that starred Joe Pesci as the slumlord forced to live under house arrest in his own rattletrap apartment building until it's brought up to code.
Then again, we're for anything that could conceivably help boost our local fortunes.
At least in theory, it would help heat up the local real estate market if California Democrats like Sen. Dianne Feinstein (net worth: $50 million) or Nancy Pelosi (net worth: $30 million) had to buy a pied-à-terre in Palmer Park. And won't they be delighted that even the price of a Georgetown brownstone will get you an entire intact block of houses in East English Village?
Plus, politicians aren't necessarily used to being stars, but here they'd get instant celebrity status. I mean, people freak the fuck out when Connie Sellecca or Carrot Top show up at a local bar. Can you imagine suddenly seeing Keith Ellison in line at Steve's Soul Food, or Cory Booker settling into a table at Slow's Bar-B-Q? Could Bernie Sanders tucking into a pastrami on rye at the Stage Deli be far behind?
Ultimately, we doubt it would work out. Why? Mostly because we doubt the Democratic Party would like it here. The last thing they want to do is sacrifice lobbyist-paid dinner tabs at the Capital Grille or Fiola so that they can rub shoulders with real people at Mike's Famous Ham Place. There's a reason well-to-do coastal elites call this "flyover country." They love Middle America — in theory, or at least at a cruising altitude of 36,000 feet!
One more interesting thing: Should anybody of the party faithful be interested in taking Angelides' proposal seriously, they'll be in a good position to judge it Feb. 3, when the DNC's Detroit forum is scheduled to hit town for a day.