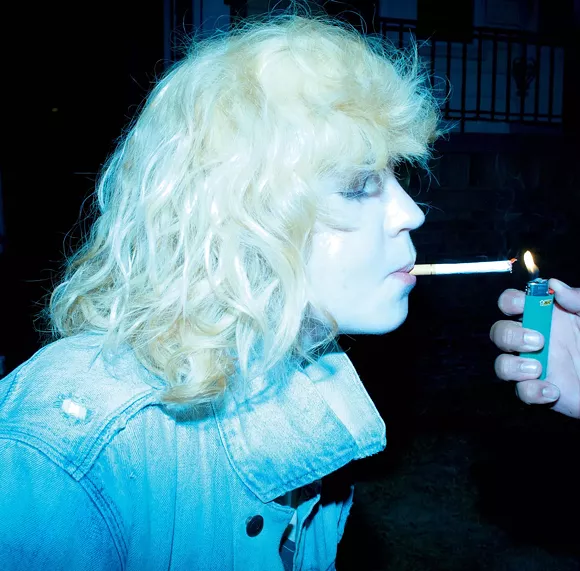 For reasons of space, the following submissions were cut from
our overview of the best music that happened
in or came from Detroit, Mich. during the year 2016.
2016 ARTISTS
Bevlove
Seeing Bevlove for the first time earlier this year gave me chills. I remember thinking what a star she was. Subsequently, she has played at the place of my employment (El Club) several times, and shows up for karaoke on the semi-regs. She does quite a lot of style and grace. The best is when she plays the club, and then karaoke directly following her show! I feel honored to be in the presence of such talent. — Matt Ziolkowski (
Mountains and Rainbows, Pepe Z
)
2016 RELEASES
Fake Surfers, Cheap Meat (X!)
Frustrations, Transmission from the Ether (X!)
On June 3rd, X! Records quietly released two of Detroit's best albums of the year: Fake Surfers'
Cheap Meat
and Frustrations' long-awaited
Transmission from the Ether
. X! has consistently released some of Detroit's sharpest punk music; these two albums are no different, though each offer a different take on aggression.
Cheap Meat
is single-sided, rapid-fire, an onslaught of feelings you don't really want, with the simplicity of being a guitar/drums duo heightening the sonic urgency to getting rid of those feelings. They have to play these songs or they will crawl out of their own skin. But in a Touch and Go via Black Flag with less poisonous anger kind of way.
Transmission From the Ether
is clearly the work of a slightly older band, one working toward crafting their own sound in a way more deeply apparent with each album. This release is their third and best yet, darkly captivating psychedelic dissonance with a wider and perhaps even prettier understanding of where noise and punk and rock can be taken without losing the harshness that draws you to that kind of music in the first place.
Both albums rule in their own ways and on the 31st of July their double record release show at Hybrid Moments (which also happens to be one of Detroit's most underrated record stores, and a sick space in its own right) gave people the chance to see both bands at once, and it was sick. And with the three dudes of Frustrations living in three different cities, who knows when we'll get to see them again, let alone with all original members? As it stands, everyone is involved in other bands too — all the members of both Frustrations and Fake Surfers — so take the opportunity to go down your own sonic rabbit hole of Detroit punk and beyond by seeing what else they've all been up to. — Ana Gavrilovska (
Metro Times
)
2016 LIVE SHOWS
May 27-29, Trip Metal Fest @ El Club, Trinosophes
All of horrid 2016 was not a big ol' soul sucking loss. In the words of the one of the deepest L's of the downer year, the almighty Prince said "It's not music, it's a trip." So welcome to this mugger's highlight of the 1-6: the Detroit Memorial Day weekend free blast entitled "Trip Metal Fest. It was grassroots AF from the bowls packed to the family hugs of free thinking
underground weirdoes
, all working together in their own colorful world. All sonic artists local and mad: alongside a gaggle of red blooded classick freakers from Morton Subotnick, Sun Ra's Marshall Allen and Danny Thompson joining forces with house wrecker outsider supreme Chicago's Hieroglyphic Being, Andrew WK, and a wild finale being a crew-only family sonic abstraction Sunday night of joyous individualistic heights peaking with a rare and life affirming set by Shades. Brains were blown, boiled, and
used
. Cats were
themselves
, which is the ultimate power. It was peaceful and forward with deep Michigan soiled roots: what can top that?
Trip mental is free
. — John Olson (
Wolf Eyes
)
June 9, Sunn O))) @ El Club
Sunn O))) presents one of those beautiful paradoxes: underground when it comes to the mainstream, yet huge when it comes to the underground. Still, I certainly hadn't expected to see them come through Detroit any time soon (although Stephen O'Malley was here with Nazoranai at the MOCAD two years, which I'm still sore about missing). Sunn O))) twists and bends our minds, souls, and ear drums and the show was just like that, the kind of physical experience that actually puts your entire body through the wringer. Maybe that doesn't sound like fun to you, but you don't go see Sunn O))) expecting to be comfortable. I've not been more disoriented at a show in my life and it was utterly wonderful. — Ana Gavrilovska (
Metro Times
)
Friday, April 22-Saturday, April 23, Guitar Soli Festival @ Trinosophes
Well, leaving myself OUT (full disclosure: I played it) I have to say Soli, the festival of solo guitar, was a major highlight of my musical goings and doings for 2016. Yes, I love guitar, etc, but for me it was more than that and more than just the music. It's not a monumental task to fill a room with noodling guitar hopefuls (groan), but each of the players at the fest brought a true voice to the genre and thankfully nearly half those voices were women's. Some players were fresh and some had been around for decades, playing acoustic and electric and hailing from both obvious schools and no schools. Best of all there was very little of the brooding, narrow, turfy, and swinging dick guitar world on display. For two days a range of styles and artists that hinted at the scope of what the instrument can do sounded out without redundancy. It was all stellar and I just bathed in it. Even though it was unnecessary I was once again reminded of the extraordinary programming that Joel Peterson has been undertaking for over two decades in Detroit, now at the fantastic Trinosophes. — Nick Schillace (
Lac LaBelle
)
October 29, SIOBAHN, DJ BANDO @ City Club
Travis "Siobahn" Galloway & Chris "DJ Bando" Durham's set at this epic Hallowe'en party was flooring: a collage of the slo'd & twisted, a tournament of confusion with dub echoes that weighed more in bass than the tunes underneath. The dynamics were trash - samples of gunshots or snare hits or I don't know what at 200% the volume of the source music. It was confusing, and it sounded incredible and awful, satisfying my most base avant wants and search for legitimately dirty chopped n screwed sounds. I wanted to die in its transcendent series of left turns, crushed under junk heap after mysterious junk heap. It felt like the first (and fifth-to-last time) I did ketamine, barely able to walk & unable to suss the shape of the air around me. I read that the next Transformers movie was being filmed in other parts of the building while Siobahn and Bando played but the scenes are haunted; too messed up to even appear as bonus material on the DVD version. This was the kind of set that makes me cry "Hats off to music!" — Forest Juziuk (ˆ)
2016 ETC.
2016 has been a mindfuck of monumental proportions. It's as if some universal God got bored so they decided to throw a maximum dum dum into the most powerful position on the planet takes all the great artists (Cohen, Bowie, PRINCE, I'm still not over Prince, WHY PRINCE!?) and see what happens as this circus we call reality unfolds. The only thing to find solace in is art. And there have been some great stuff to feel good about.
There are two great books I read this year about Syria, "The Morning They Came For Us" by Janine di Giovanni and "Syrian Dust" by Francesca Borri. These two amazing women put the carnage into words of Assad's government, the terrorist factions, the meddling of countless countries, that along with the undermanned and silenced Free Syrian Army has created a chaos that has left the people of Syria helpless.
As for music I have two words that have made my 2016 tolerable, LIL YACHTY. A 19 year old straight edge kid who raps like Barney with bright red dreads. SOLD. It's so fun to listen to. It's mindless fun. Just enjoy it.
Those one million Joe Biden memes kept the dark days at bay.
My favorite tracks include "Real Shit" by Bizzy Crook "Untitled 07" by Kendrick Lamar, "Pimp Hand" by Vince Staples, "No Worries" by Young Buck, "Pray For Em" by Meek Mill, "Minnesota" by Lil Yachty "Out The Roof," by Vee Tha Rula "Tell Me What I Don't Know" by Danny Brown which is a modern day Ice Cube's "The Product."
Favorite Albums, Swans' "The Glowing Man," Psychic Ills' "Inner Journey Out," and Angel Olsen's "My Woman"
Best Local Albums Tyvek "Origin Of What" Chanes "S/T" Treading Bloom "Of Flesh And Vacancy" Ritual Howls "Into The Water" Jay Daniel "Broken Knowz" and the banger of all bangers Danny Brown "Atrocity Exhibition"
I'm excited to hear the new Rebel Kind record.
Swans were amazing at St. Andrews.
Now 2016 just leave. — Zach Weedon (
Mexican Knives, Dirtbombs
)