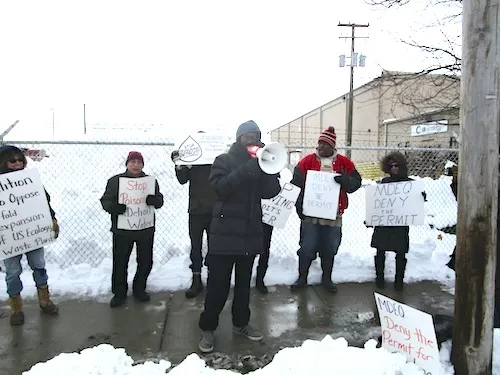 At noon today, community groups and local residents held a press conference and protest opposing what they say is the imminent approval of a permit to expand a hazardous waste facility in a Detroit neighborhood.
The operation, located on Georgia Street, off Mount Elliott Street, is run by US Ecology of Boise, Idaho. Last fall, when its operating license was up for renewal, it submitted an application to Michigan's Department of Environmental Quality (MDEQ) proposing a ninefold expansion in waste storage and a threefold expansion in waste treatment, according to Nick Leonard of the Great Lakes Environmental Law Center. The
Detroit Free Press
reported that the facility's new license would "allow it to increase hazardous waste storage there in tanks and containers from 64,000 gallons to nearly 666,000 gallons."
That's too much waste too close to residents of Detroit and Hamtramck, according to critics alarmed by the proposed expansion.
The company's application with Michigan's Department of Environmental Quality (MDEQ) listing substances treated or stored on Georgia Street looks anything but appetizing: heavy metals, sludge, pickle liquor, cyanide, hydrochloric acid, even wastes containing low levels (less than 50 ppm) of polychlorinated biphenyls (PCBs). Critics also charge that the facility accepts radioactive fracking waste from Pennsylvania.
The facility is also a half-mile from the densest urban area in Michigan: Hamtramck. It's also located less than a mile from several churches and mosques, about a quarter mile from the Detroit Water and Sewerage Department. Also, the additional waste would stream into the plant via local roads and highways; an accident could end up being a costly hazmat situation.
One of the key people to raise the alarm last year was state Rep. Rose Mary Robinson
(D-Detroit), who said: "Detroit should not be the dumping ground and storage site for hazardous waste from across the country," said Robinson, and urged residents to raise the issues with MDEQ, which extended its public comment period when she publicized the issue last September.
Since then, most Michigan residents making comments have blasted the proposal. Richard A. Conforti Jr., an environmental engineer with MDEQ, says, "We received approximately 350 comments on the U.S. Ecology expansion. … None of the comments received were in favor of the expansion, approximately 200 comments basically said the expansion was not wanted."
Should the expansion go ahead despite the overwhelmingly negative comments, it doesn't mean that MDEQ isn't listening. Conforti says, "From those comments we made revisions to the permit language, adding vehicle traffic conditions, and adding a condition to report environmental monitoring data to the city of Detroit Buildings, Safety Engineering and Environmental Department." Leonard says, for instance, that the department took into account complaints about waste being stored outside.
Community organizers are also working with the city of Detroit on a "host-community agreement," something akin to a community-benefits agreement, involving the routing of truck traffic and setting resident employment goals.
So officials are listening. But instead of MDEQ giving the much-desired "no" it will only tweak the way it says "yes."
That's not all that comforting to neighbors facing a massively expanded waste facility down the street. But the expansion itself isn't the only thing drawing fire from those opposed: A permit from Detroit Water and Sewerage Department allows as much as 300,000 gallons of liquid waste to be dumped into the public sewer system at the plant's location daily.
On that score, the facility's track record is less than stellar. As Leonard says, "The permit from city of Detroit to that says you have to treat any wastewater you send into the sewer system, and sets threshold amounts for chemicals."
According to
an investigative article by Free Press writer Keith Matheny
, the plant has violated acceptable thresholds of hazardous waste more than 150 times since September 2010, releasing "excessive amounts of mercury, arsenic, cyanide and other toxic chemicals into the city sewer system."
Given the plant's proximity to a part of town where sewers are overloaded by a mixture of sewer and storm drain sludge that
backs up into area basements
, such releases are cause for serious anxiety.
Despite public meetings, protests, a mass letter-writing campaign with appeals from scientists, residents, veterans, lawyers, and public officials — including public letters of protest from the Wayne County Executive, the mayor of Hamtramck, and the head of the Hamtramck School Board — critics seem confident enough that the permit will go through to stage a press event before it happens. If that seems odd, organizers point to the track record of the state department.
Peggy Case, president of Michigan Citizens for Water Conservation says of the agency, "Their sole job, apparently, is to grant permits. They live off the permit fees and they don't deny any permits. They've certainly been performing that function for the oil and gas industry quite well very well for the last 10 years."
Leonard is a bit more generous. He believes MDEQ has denied "one or two" permits in the last decade.
In fact, while most Michiganders likely regard the department as a watchdog for the environment, the tone set for the agency by Lansing involves a very short leash.
On a state website
, one of the three key guiding principles of the department is to be "partners in economic development." When push comes to shove, critics say the diktat to expand "economic development" wins almost all the time.
Hence today's protest, which got several horn-pounding salutes from truck drivers traversing Georgia Street. Protestors called on MDEQ to reject the permit, and assailed the Snyder administration, which doubtless helped set the tone for how MDEQ gives so much weight to supporting a "vibrant economy." Speakers included Diane Weckerle, co-chair of the Coalition to Oppose the Expansion of US Ecology, Will Copeland, climate justice director with the East Michigan Environmental Action Council (EMEAC), and lifelong neighbor and longtime community activist Mark Covington of the Georgia Street Collective.
The message was loud and clear: "Don't ignore the wishes of residents and their elected officials: Stop poisoning Detroit."