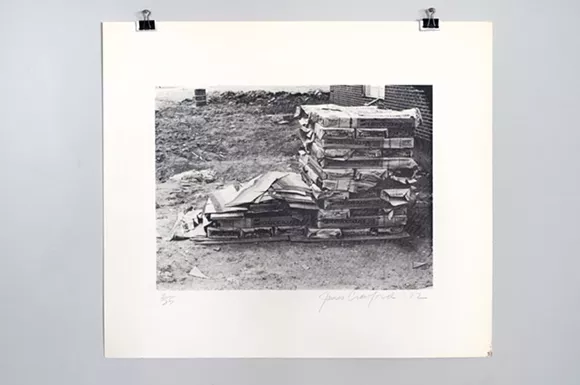 We wrote about it the other month
, but maybe you got busy? Or perhaps you were at the opening, and you really need to make it back to check the show out again? We were reminded today that the Jim Crawford show is still up for a few more weeks (until Dec. 23) by exhibition curator and former
MT
arts editor Rebecca Mazzei, who posted today on her Facebook page that today is the artist's birthday.
Trinosophes itself (the cafe part)
serves breakfast and lunch Tuesday through Saturday 9 a.m.-3 p.m. The gallery is open 11 a.m.-3 p.m. every Thursday-Saturday and otherwise by appointment.
The show is wide-ranging and witty. Unlike so many similar exhibitions, some of the best work was made just in the past year. It's so rad that one-to-two-person-run spaces like Trinos and What Pipeline bring neglected, exceptional local artists to our attention with care and in close collaboration with the individual artists/their estates.
Mazzei also linked to an interview she conducted with Crawford, which is cool because we somehow missed that. One of our favorite parts of the exchange follows, but you really should read the whole thing.
Trinosophes: Since the 1960s, you have employed a variety of materials, including neon, handmade paper, dry ice, corrugated cardboard, ice, Masonite, wood, Xerox ink, porcelain enamel, paper clips, staples, and recently, eggshells and cat food cans. Most of these materials don't hold up well over time, yet you are an avid archivist who documents each project well. What does your selection of materials say about your conception of time?

Crawford: Time is relative and metaphysical. It's about your place in time and space where you can let go and just be – be a part of nature. I have no profound definition, only little insights I have had along the way. The ideas in different bodies of work compliment the specific materials. Often, different materials were appropriate to specific bodies of work, but most of all, I loved and enjoyed working in Detroit's small factories, creating the pieces and working with the tradesmen.

You would be surprised how well one can keep intact "delicate" items through appropriate storage and care in handling the material. About my interest in documentation of my work, I had a fascination that came out of doing work for the Archives of American Art (being aware of their mission and practices), and also working on the publication of Early Artists of Michigan, and being on the research committee for the Dictionary of American Painters.