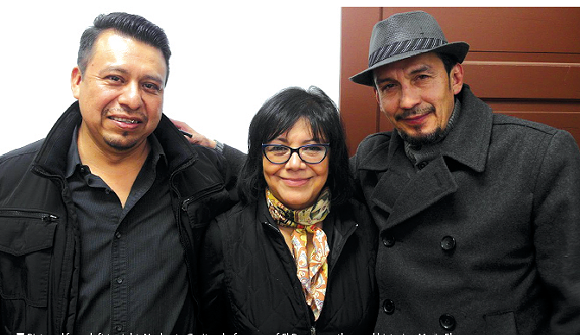 Most people, in describing the growth of Detroit's dining scene over the past decade or so, would point to Slows Bar BQ in Corktown for getting the ball rolling.
And those people wouldn't necessarily be wrong. After all, when Phillip Cooley opened the barbecue spot across from Michigan Central Station in 2005, the city wasn't considered much of a dining destination.
A perhaps lesser publicized, yet no less beloved restaurateur, who made the move to Detroit within a year of Cooley is Norberto Garita. Formerly chef at the shuttered Il Posto in Southfield, Garita brought his suburban clientele down the street from the barbecue when he opened El Barzon Restaurante.
The eatery was like nothing anybody had ever seen in Detroit. Garita designed the menu to highlight both his expertise in fine Italian cuisine and in the food native to his homeland in the Mexican state of Puebla.
Both Cooley and Garita were on to something, which a decade later would be clear to an influx of other restaurateurs: Opening a restaurant in Detroit is not only safe, but it can help transform a neighborhood.
Garita's path to success in Detroit dining started when he was a boy growing up on a farm in El Platanar Pecomatlan, a village in the Mexican state of Puebla.
He immigrated to New York City and worked in the restaurant industry for 18 years. After a visit with a cousin who lived in Detroit, he decided the smaller Midwest city better suited his rural upbringing. He went on to further hone his skills at Il Posto before opening El Barzon at 3710 Junction in 2006.
These days, reservations are strongly recommended if you want to snag a seat at El Barzon's divine outdoor patio, speaking not just of the ambiance, but of the quality of the global fare like Garita's famous mole poblano. Garita and his son, Bertin, are also working on opening another venture, La Noria, a quick-service spot that will feature wood-fire pizza and Mexican street food.
In the meantime, the always humble Garita is happy to spend his free time with his wife and six children. Recently, he helped judge the second Holy Mole contest (see our feature in this edition), where we caught up with him.
Metro Times: What is one thing people don't know about you that you wish they did?
Norberto Garita: I'm always thinking about what it will take to make people happy. This is something that I feel happy that people every day I see people have been here for a long time.
MT: What daily ritual is non-negotiable for you?
Garita: I always get energy when I'm in the kitchen. I need to come to my restaurant every day and play with the food, to see everything being made. If I don't come to the restaurant, I miss it. It's just something that you get used to.
MT: If you could have any superpower, what would it be?
Garita: I don't want to have a superpower, my only wish is to make my customers happy, for them to have a 100 percent experience when they come to visit me.
MT: What is the most positive thing in food or drink that you've noticed in Detroit over the past year?
Garita: There is a lot of competition now. It's not only for me, it's happening for everybody. Everyone has a lot of different ideas and it's inspiring to see.
MT: Who's the one person to watch right now in the Detroit dining scene?
Garita: When I see what everyone is doing, it makes me look inwards at what I'm doing. I have to compete with myself to do right by my customers, to keep them satisfied, to figure out how can I do things better, to bring in new ideas.
MT: Which ingredient is most representative of your personality?
Garita: I would go with veggies, not one in particular. Maybe the bell pepper or the cactus. The point is, the more fresh veggies that you use, the more healthy you are.
MT: If you weren't working in the restaurant business, what would you be doing?
Garita: I would like to be a farmer.
MT: Name an ingredient never allowed in your kitchen.
Garita: If it's not fresh, we try not to use it, as much as possible.
MT: What is your after-work hangout?
Garita: To be with my family.
MT: What's your food or beverage guilty pleasure?
Garita: I grew up on a small farm in Mexico. We didn't have guilty pleasures. Now, something like a glass of fresh-squeezed juice, maybe a green veggie juice or orange.
MT: What would be your last meal on Earth?
Garita: That's a tough question, we never think about that. But I would say maybe goat, barbacoa, that would be enough, that would fill me up, I think.