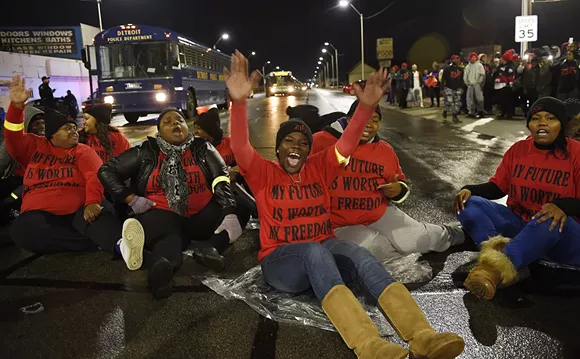 Starting in the new year, Michigan employees will see the minimum wage raised from from $8.50 to $8.90 — one step as part of an eventual increase to $9.25 per hour in 2018. But it's doubtful many will appreciate the 40-cent raise, which is still a far cry from the $15 per hour activists are calling for nationwide.
On Tuesday,
39 protesters were arrested
for blocking the road at a protest in front of a McDonald's on Grand River Avenue in Detroit as part of a national day of protest organized by activist group Fight for $15.
Pastor W.J. Rideout III of All God's People's Church in Detroit, who serves as a liaison and spokesman for the local Fight for $15 group, Detroit 15, says he estimates the protests drew over 1,000 people — though official police estimates were more conservative at 200-300.
"The minimum wage is not enough. People can't survive off of it, they can't survive off of $8.50, they can't survive of $9. That's not enough money for a family. That's still below poverty," Rideout tells
Metro Times
. "They can't afford to pay their phone bills, their rent, their lights, their gas. That's bad that they need three or four jobs in order to survive."
Rideout says to expect more protests in the coming year. "This is not just a moment. We are an overwhelmingly large movement ... the bottom line is they think we're going to stop because of arrests. It's just going to make us go harder. This is not even a political movement. It's an economic movement. We're looking out for the people's best interest, for the low-wage worker's best interest."
The current federal minimum wage is $7.25 an hour. Some cities and states around the country have plans to phase in a $15 minimum wage in the next several years.