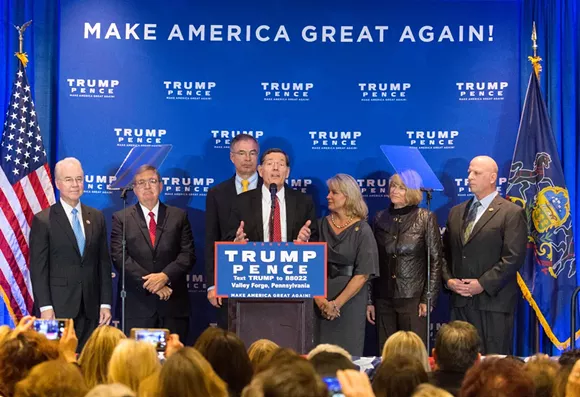 President-elect Donald Trump announced he hopes to appoint Dr. Tom Price as secretary for the U.S. Department of Health and Human Services, a job that would likely involve dismantling the Affordable Care Act and Medicare and defunding Planned Parenthood.
It will come as a surprise to exactly no one that the left is pissed about this possible appointment and they're already casting such fretful metaphors as "akin to asking the fox to guard the henhouse," which is a quote from Senator Charles Schumer (D-NY) referenced in a
AlterNet
news story.
And for anyone who was hoping that Obamacare, Medicaid, and Medicare would be salvaged, such metaphors aren't too far off base. Actually, for anyone who thinks women and the LGTBQ community are real people who should have equal rights wouldn't be too far off base.
Price, who's a congressman in Georgia,
has voted dozens of times to repeal Obamacare
, according to NPR. He also introduced the Restoring Americans' Healthcare Freedom Reconciliation Act, which sought to revoke reimbursements given to "essential community providers" (read: Planned Parenthood) who provide abortions "beyond limited circumstances and whose network exceeds $350 million in Medicaid billing reimbursements." So, a lot of pro-choice people are kind of freaking out, given that Planned Parenthood and other such organizations provide not only family planning services, but screenings for breast cancer, HIV/AIDS, and sexual transmitted diseases and infections.
He also wants to overhaul Medicare and has a plan to privatize the program by giving stipends to seniors who would then be able buy private insurance using government benefits. He says such a system would encourage competition and lower costs.
It's being speculated that Price, who's spewed anti-LGBT rhetoric from time to time, might also
cut funding to programs
that give people with HIV access to life-saving drugs. He has a strong anti-gay track record, voting against a 2007 bill that would prohibit workplace discrimination against gay people, voting against marriage equality, and voting against repealing Don't Ask Don't Tell.
He may also have agreed with religious fanatics who said Hurricane Sandy was a direct result of the homosexual agenda, particularly the Marriage Equality Act.
Oy vey!
Price, who's a Dearborn native and an alumnus of both Dearborn High School and University of Michigan, spent 20 years teaching "resident physicians at Emory University School of Medicine and as medical director of the Orthopedic Clinic at Grady Memorial Hospital in Atlanta," according to a
Detroit News article
.
In short, fuck Tom Price and fuck Donald Trump.