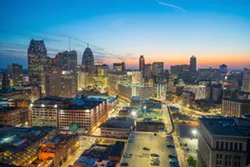 Probably once a week, we here at
MT
get an email from some random PR firm that's working with some random data collection site, sometimes they collect data on where the fattest people in the country live, other times they rank states based on their intelligence.
Regardless of the topic, it's all information that's been compiled in a way that's easy to digest and clickable.
But, sometimes the packaging of this information really misses the mark.
Last week we received an email from a Dallas-based firm called Axiometrics. They earnestly wanted to share some information about Detroit's apartment market. It's the strongest market in Midwest, according to the data they've compiled.
A chipper quote from Axiometrics' senior vice president of analytics goes like this: "Apartment market performance hasn't been great in the Rust Belt, but Detroit is an exception," says Jay Denton. "While job growth isn't creating much new demand, it is creating enough so that the few units available are being filled. Occupancy is so high and new supply so low that landlords feel emboldened to raise rents."
So, this means three things: First, people aren't making enough money or haven't yet pulled themselves far enough out of the financial rut caused by the Great Recession to buy homes. Second, people who've lived in apartments for a long time with stable rent are now seeing their cost of living rise substantially. Third, as Detroit becomes a hip place to live, it's becoming more expensive to live here.
While rents across the metro area are on the rise, Detroit has seen the biggest increase, with prices going up nearly six percent in the last year. In 2015 an apartment might cost $886 a month, but in 2016 the same space demands $937 monthly. But, these figures only reflect the rise of rent in the last year, when in actuality many renters have been watching their rent rise exponentially for years.
This is great for landlords, sure. But, what about their long-time tenants? What about the folks who will no longer be able to afford to live in their own home? Well that's capitalism, folks.