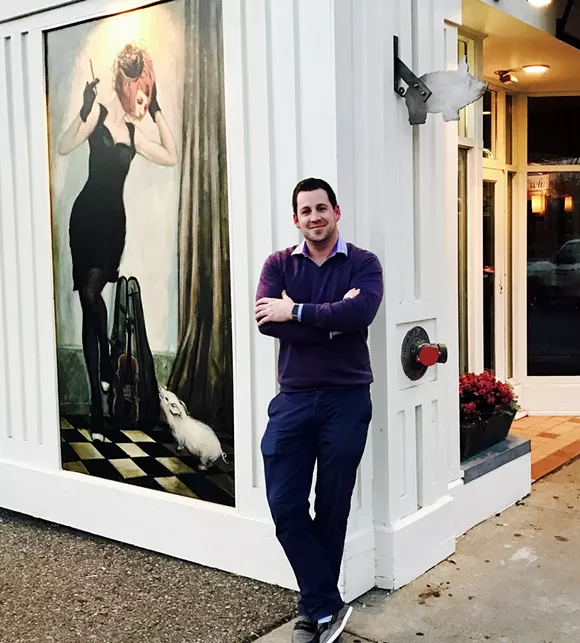 Adam Merkel is on a mission to put Howell on the foodie map. Sure, the area has its share of corn fields and farms, but it's also got an up-and-coming downtown, with a number of eateries – both old and new – that are helping to make the Livingston County burg a bit of a dining destination.
He's the chef-owner of longtime restaurant Diamond's Steak & Seafood (which he plans to relocate to a larger space in the former Mr. B's Rustic Tavern building), the recently opened Silver Pig, and is working on opening a modern Italian place to be called Cello Ristorante.
When he's not playing booster of downtown Howell, he's marveling from a short distance at the progress that Detroit's dining scene has made as of late.
Read on to see how Merkel manages to juggle it all.
Metro Times: What is one thing people don't know about you that you wish they did?
Adam Merkel: That I value our employees more than I do customers. Happy workers make for happy guests. It's that simple.
MT: What daily ritual is non-negotiable for you?
Merkel: Howard Stern…That's my sole entertainment for the day on the drives to and from work. Love him.
MT: If you could have any superpower, what would it be?
Merkel: It would be to be able to fly…how bad ass would that be?
MT: What is the most positive thing in food or drink that you've noticed in Detroit over the past year?
Merkel: Growing up in and around Detroit my entire life, there was a time where I questioned whether I would ever see the vibrancy of Detroit's food scene like it is now, let alone in my entire lifetime. Proud to say Detroit is on our short list of next locations.
MT: Who is your Detroit food crush?
Merkel: Andy Hollyday. Hands down. Selden was a game changer for Detroit, and still is. I've got mad respect for Andy.
MT: Who's the one person to watch right now in the Detroit dining scene?
Merkel: Kate Williams. So talented. Can't wait to see what she does with her new spot.
MT: Which ingredient is most representative of your personality?
Merkel: Butter. It's smooth, has great flavor and makes just about everything around it better. wtf! Lol
MT: If you weren't working in the restaurant business, what would you be doing?
Merkel: Whatever I'd be doing, I would be trying to finagle my way back INTO the restaurant business. It's what I was born to do. It's an obsession. Maybe I should get that checked out.
MT: Name an ingredient never allowed in your kitchen.
Merkel: We don't allow bought sauces or pretty much anything that we don't make from scratch. That's just who we are.
MT: What is your after-work hangout?
Merkel: It sounds boring, but usually my living room, smashing a bottle of wine while reading a gazillion guest comment cards, working on new menus, or any of the other 10 million things our team decides to take on for that week. When I'm not at work or home, I usually like to hit up any of the Roberts Restaurant Group spots… They're open an hour later than normal restaurant hours, it's quiet, and it is always solid for food and drinks.
MT: What's your food or beverage guilty pleasure?
Merkel: Sometime after midnight, I find myself killing a box of mac n cheese. I always doctor it up and love it, but I've usually drank so much wine by then I forgot what the hell I did to it to make it taste so good. Until next time.
MT: What would be your last meal on earth?
Merkel: Canlis Restaurant in Seattle. They can pick, it's all incredibly amazing. In my opinion, the best restaurant in the universe. They do EVERYTHING right, start to finish.
See also:
Side Dish: FoodLab's Devita Davison on the promise of urban farming, black girl magic, and the word 'foodie'

See also:
Side Dish: Rock 'n roll chef Blair Wills makes a better brunch at Kelly's Bar in Hamtramck