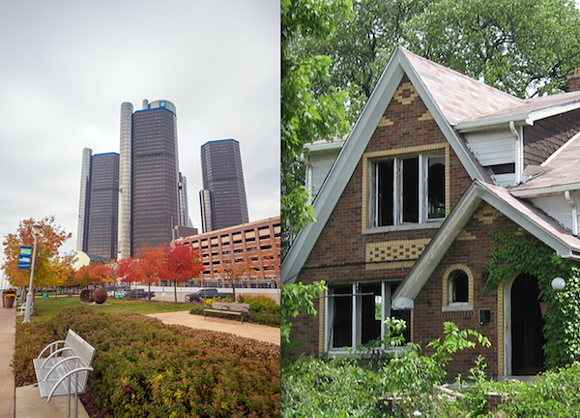 For the last few years, it seems the international media appetite for Detroit's "rebirth" narrative has been bottomless. From
The New York Times
to
National Geographic
, correspondents have eagerly airdropped into select Detroit neighborhoods — largely downtown, Midtown, and Corktown – impressed by the coffee shops, showy restaurants, upscale bars, and high-end shops. The reporting from these areas can be a little over-the-top, as if, "Oh my god, I can't believe this is Detroit! Looks like this city's problems are history!"
Of course, step beyond the carefully guided tour of Detroit and you'll find the same old pain and misery. For the most part, anyway. What's changing?
According to a new study undertaken by Michigan State University and Wayne State University scholars, the pain and misery in Detroit's neighborhoods is getting worse.
The article, which sports the eye-catching title "'It's safe to come, we've got lattes': Development disparities in Detroit," notes that the upbeat headlines and coverage simply don't reflect life in the majority of the city, where conditions grow more dire by the year.
It's behind a paywall, but the facts, many of which are
enumerated in a press release for the article
, go like this:
• Much of the city's high-profile development is centered in a roughly seven-mile-square area.
• In the other 95 percent of Detroit, "decay continues to dominate the post-apocalyptic neighborhood landscape."
• Poverty in the city jumped from 33 percent in 2009 to 40 percent in 2014.
• Unemployment increased from 25 percent in 2010 to 27 percent in 2013.
• Most hotspots for crime – including homicide – are concentrated in the neighborhoods, and not in the downtown/Midtown area.
• Public education continues to decline.
• Property tax delinquencies reached a high of 47 percent of parcels and uncollected taxes are estimated at $131 million.
All of these facts raise the fundamental question that has been asked for almost 50 years now: Why do we continue to shower downtown and the vicinity with subsidies, tax abatements, and below-market-rate land swaps when the prosperity doesn't seem to spill over into the neighborhoods?
That's where the article gets down to the nitty-gritty: "[R]evitalization
schemes focused on downtowns have proven not to be up to
the challenges of economic distress in other cities," and that "the modest improvements in the midtown area 'do nothing to address
the city's core problem: disinvestment and abandonment propelled by
corporate decisions framed and aided by government policies, from
housing and free trade, with an overlay of stubbornly persistent racism.'"
The article's conclusions may not be the upbeat talk city leaders want to hear, but they ignore it at their peril:
Overall, the citywide data suggest that Detroit continues to experience decline, leaving it worse off than in 2000, or even 2010. Population, employment and incomes continue to decrease, while vacancies and poverty have increased. The real progress that has occurred in recent years in the Downtown/Midtown core has been insufficient to offset the continued citywide negative trends.