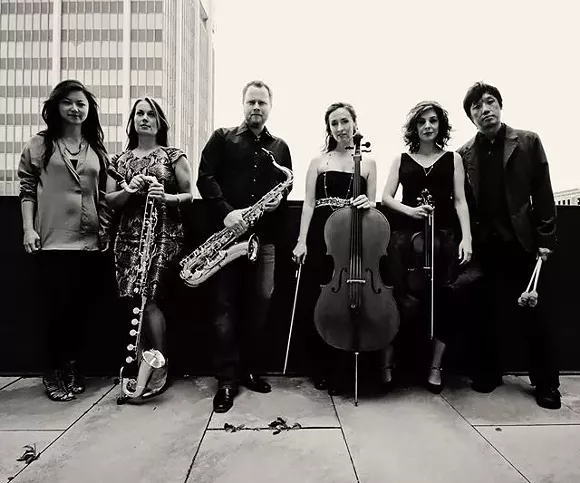 This Sunday, Nov. 20 at 8 p.m., MOCAD is putting on a wonderful program with New Music Detroit and special guest YAK.
This is not the kind of music that gets enough attention in Detroit, or almost anywhere, come to think of it.
Founded in 2006,
New Music Detroit
is dedicated to performing "groundbreaking musical works from the late-20th century to the present day." They're a highly flexible ensemble with a cast of core members and prominent guest artists, who are into playing new and adventurous classical music in a wide variety of settings, for as wide an audience as possible. And YAK is an avant-garde duo comprised of local musicians Yuri Popowycz and Zac Brunell.
We spoke with Zac Brunell, who's the production manager for New Music Detroit and the percussionist in YAK, about the selection they've got planned for Sunday. He kindly broke it all down for us in an email:
Here's a rundown of our program with a little bit of description. I'll include links (when applicable) in case folks would like to get a listen in before the show — Zac Brunell
20-min performance by YAK
Bowed strings and cymbals leading a guided meditation journey into the spirit of the yak. "Meditative and aggressive"
(10-minute guided meditation for the Detroit Zoo's yak, NOVUS)
"Observations" by Tristan Perich
Minimalist percussion duo using resonant metals and electronic 1-bit playback
"Still Life with Avalanche" by Missy Mazzoli
"Number 9" by Gabriella Smith
(Couldn't get the recording plugin at this link to work, but the notes are super cool; it's a great piece)
"Escape" by Marc Mellits
Played by our co-directors Erik Ronmark and Ian Ding (Marc is a dear friend of NMD for a long time now)
(This was partially premiered on our marathon Strange Beautiful Music in September, but our recording hasn't been released yet)
"This Is My Hand" by Shara Nova (of My Brightest Diamond)
Shara is a local hero of poetic expression, as you may already know. We wanted to include this piece because of current events — it's a topical piece about black men and personal ownership of the parts of one's body.