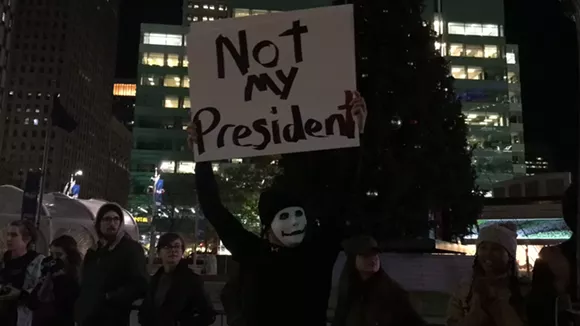 With the election decided and our next president announced, protesters began to demonstrate around Downtown Detroit.
Metro Times
caught up with a protesters who came in waves, snaking through Downtown, Midtown, and Greektown.
Their chants were simple. Their message was clear:
"Fuck Donald Trump.
"Fuck white supremacy.
"No Trump. No KKK. No fascist USA.
"Not my president.
"Hey, Hey. Ho, Ho. This racist president has to go."
This is just a small segment of people unsatisfied with the election results, but a segment that wanted to be heard on the streets of Detroit. The group contained just about every demographic — from white to black, college students to book editors — that wanted to share their concerns about America's 45th president Wednesday night. They gathered at Campus Martius and began to chant before making their way to Hart Plaza.
They wanted to be heard. They wanted to be seen. They were not OK with President-elect Trump's campaign messages towards minorities and the LGBTQ community.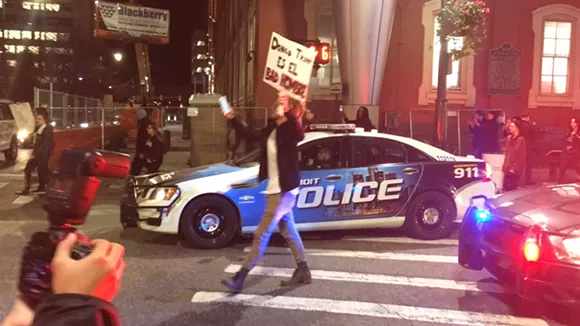 Aaron, a protester willing to speak with us on a first name basis, said he participated in the peaceful protest because "Trump was a threat and a risk to a lot of people in this country" including a significant number of friends he has because of remarks Trump made during his campaign about those friends' nationalities. Aaron held a "Donald Trump es el bad hombre" sign during the protest and said it reflected one of the many comments Trump made that concerned and angered him. He's this rich guy living in New York, Aaron said, with no concern for the general public.
"I think electing Donald Trump really shows who we are as Americans. It's shameful where we are as a country, right now," Aaron said. "The election showed how people in this country are feeling and we just can't afford to go backwards. We have to keep improving on all the progress we've made so far. People should be able to look back at our protest and see there were people willing to say a mistake was made."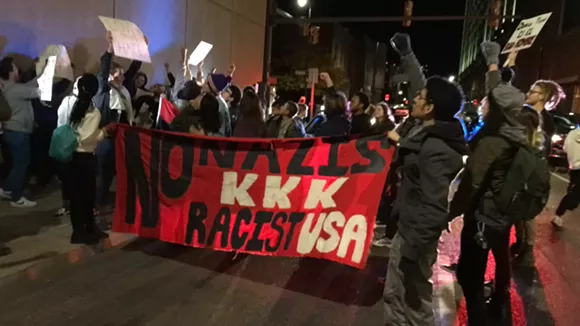 The protesters quickly gained supporters as people driving by honked their horns and onlookers, watching from the opposite sidewalk or surrounding buildings, began to chant with them as the group passed by. As they began to walk down Woodward Avenue away from Hart Plaza, other onlookers began to converge and join in on the demonstration. Initially the smaller group planned to demonstrate at Hart Plaza; but as it continued to grow, they decided to make their way to Wayne State University.
The chants got louder as onlookers began to echo the chants from several different vantage points. The demonstrators began to yell about taking the streets and that is exactly what happened. They began to stand in the street and walk slowly to block traffic with their banners and signs because the protest grew too large for the sidewalk.
As the group moved through downtown Detroit, we caught up with another protester. Jotska, who also spoke to us on a first name basis, said he was part of an organization named Queers Against Injustice that "is proactive against racism, sexism, pretty much all the -isms, homophobia and transophobia." He said that Trump is not a representative of America and especially younger generations of Americans.
"Every person in this country deserves equal respect and to be treated fairly. There have been people treated unfairly based on previous comments he made," Jotska said. "His presidency gives anything he might say more weight. It is genuinely worrisome for someone like me because I don't know what he could say or how he may influence others with the words he chooses to use."