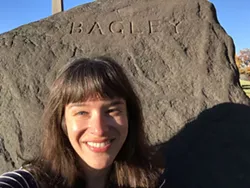 When Amy Elliott Bragg, Issue Media Group's content director, heard women were visiting the grave of Susan B. Anthony with their "I Voted" stickers, leaving the tags on the famous suffragettes tombstone, she knew she wanted to do something similar in Detroit.
The problem was, she couldn't find the grave sites of the city's most well-known suffragettes. The final resting place of Clara Arthur, one of Michigan's most famous suffragists and a member of the Michigan Women's Hall of Fame, wasn't listed on findagrave.com.
"At first I thought, I'd better find another suffragist really fast," says Bragg. "But, then I started doing more research."
That led Bragg to a conclusion that should astonish exactly no one: that these women, for all their accomplishments, were often overshadowed by their husbands. In the end, she found Arthur's — and other famous suffragists' — grave by searching for her husband's burial site.
Now, Bragg is
compiling a map to help others find the graves of these important women
. So far that links includes names like Sojourner Truth, Frances Bagley, Jennie Buell, Rosa Parks, Emily Burton Ketcham, Belle Brotherton, and Lilian Silk Holt. She's named the project #VisitASuffragist and despite the impending culmination of this ridiculous election cycle, she hopes that people will continue to honor suffragists by visiting their sites.
"This is something that's never not important," says Bragg. And furthermore, this isn't a project she considers to be divisive.
"There's a way to frame is that's political and there's a way to frame it that connects us with these women who worked so hard for us to be able to be involved in the political process," says Bragg.
But, she's quick to admit that this enterprise has challenged her in ways that forced her to wrestle with her relationship to the patriarchy, including the way she does research.
"Men get all the glory," Bragg says. "They're more well-remembered, even when women are doing great things."
The whole project is basically a women's studies research paper waiting to happen.
"What if women were the focal point in history?" Bragg asks. "What if the whole fabric of of the world didn't have men as the default setting in history?"