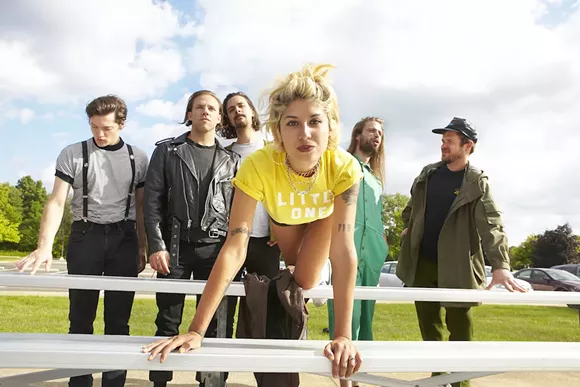 Metro Times
caught up with our pal Jessica Hernandez in anticipation of her upcoming LP (due early 2017), its Spanish version, the respective tour for said album, and more pressingly, two homecoming shows by
Jessica Hernandez and the Deltas
at El Club next week, on
Thursday, Nov. 17
and
Friday, Nov. 18
.
Metro Times
: How has your experience been throughout the production process of the second album and did you try anything new in the studio with this batch of tunes based on prior recording experiences?
Jessica Hernandez
: With LP2, I wanted to try everything that I felt I wasn't given the chance to try in the past. LP1 was a bit of a cluster fuck since I was transitioning from working with a major label to an indie and there were just too many cooks in the kitchen through the whole process. I had to answer to too many people and at the end of the day there were a lot of things I wanted to experiment with that I didn't get to try. This second LP is the total opposite. I had my bass player Steve Lehane engineer the album and my friend Eric Hoegemeyer and I co-produced the album. It was fun and relaxed and let us push a lot of boundaries with recording that I never got to push.
MT
: Regarding lyrical content,
Secret Evil
was a lot about letting go of stale love and accepting the new; what sort of themes can listeners expect from the new record?
Hernandez
: There is still a little bit of love in this album, but honestly as long as I am breathing I think I'll be inspired by love and relationships so that will probably always be there. Some of those love songs aren't really about love at all though. This album is a lot more about gender role reversal and female empowerment. I've been through a lot musically and personally and write a lot about the female perspective of going through those things. It's all done with subtlety though and is a bit tongue and cheek. I like to make serious situations playful and fun.
MT
: This record is going to have a separate Spanish version (as you've hinted on your social media). Explain that decision, process and the ups and downs of creating two versions of a record simultaneously.
Hernandez
: The whole journey of wanting to do a Spanish album came from my family. Since I was really young it was really important to them, mostly my grand parents, that I do everything in both languages. The older I've gotten the more important that was to me. Not only to sing in Spanish but to make sure I was practicing my native tongue so my kids are able to speak the language of their elders. It all just kind of fell into place since I've made a lot of friends from Mexico City through music and wanted to involve them in the process as well. It just all made sense with this second album.
MT
: Is it difficult to differentiate the versions when playing them live?
Hernandez
: Not at all. We change it up depending on what we're feeling that night. We have a lot of Spanish speaking fans in certain cities so obviously its fun for us to be able to include those Spanish versions on those nights. It's whatever feels right each night.
MT
: It must be no coincidence your homecoming gigs are at El Club. Describe your relationship with Mexicantown and what you're expecting from the November shows.
Hernandez
: Mexicantown has always felt like home to me. My family moved further and further away when my brother and I were growing up so my parents could give us the things they never had and I am so grateful for that, but its still always been home to me and my family. They have two businesses, Armado's and Mexicantown Bakery right down the street from El Club, and my dad actually spends a good amount of time at the venue since it's opened, so it just seemed logical. It's always been super important to me to shed a bright positive light on Mexicantown and the community there and I will always take advantage of any situation that lets me do that and bring money and positive vibes back into the neighborhood that I care about.
MT
: Is there a tour in the works following the record's release?
Hernandez
: Yes! The El Club show is actually not even going to be the release party. That will come later. But it had been so long since we've played at home and I wanted to play a show at El Club and get to spend some time with friends and family while playing everyone some new music. We're still mixing the album, and it will be out at the beginning of next year with a US/European and Mexico tours to follow.
MT
: Congratulations on your recent marriage. What are the pros and cons of sharing a life with another touring musician?
Hernandez
: Thanks! It's definitely not easy and it's definitely not for everyone, but I love it. Music was both of our first loves and there is still that understanding in our marriage, that's what makes it work. We support each other creatively and want the other to be as successful and creative as possible. It's really hard being apart but we know it's for a good reason so it makes it easier.
MT
: Your stage presence is extremely energetic and powerful. Who is your biggest influence when it comes to performing on stage?
Hernandez
: I have a ton of influences live. Iggy Pop, Eugene Hutz, Kathleen Hannah, Tom Waits, Blondie, The Clash. It's pretty broad, really, anyone who throws his or her soul into a performance and doesn't hold back. Iggy is definitely top of my list though.
MT
: What is your favorite way to interact with the audience while you're performing?
Hernandez
: Being myself. I try not to have a plan. I feel like that makes things feel stiff and stale. I just want to be myself 100%, even if I look or sound like an idiot. I rather look stupid being myself than being someone I'm not. At least I can feel good about authenticity if nothing else ha.
MT
: Any interesting tales from your most recent tour which just ended?
Hernandez
: A lot of my favorite memories are the small things from tour. We meet a lot of amazing people on the road and those are always the things we remember most. This last tour we had a family come to the show with a giant home cooked meal. We set up a spread and ate with the opening band and the family and hung out with the kids and sang our songs with them. It always feels good when you get little glimpses of home life and comfort on the road like that.