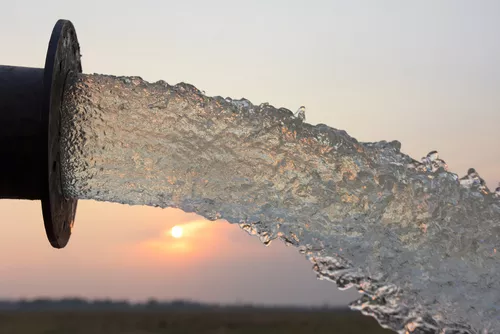 That's the question whirling around groundwater preservation groups this week. See, Nestlé, the international food services giant (yes, they do more than make chocolate) pumps a lot of water out of Michigan every day, more than 300,000 gallons a day. They want to pump more than twice as much out of the ground.
Michigan's environmentalists have been fighting the global corporate giant every step of the way, and
MT has reported
on these battles
for 13 years now
.
Michigan's DEQ is a strange animal. It's supposed to oversee environmental regulation in Michigan. And yet it has been largely OK with expanding the Marathon Refinery, a tenfold expansion of a toxic waste facility in Detroit, switching Flint city water to the Flint river ... you know, stuff that makes you scratch your head on that whole "protecting the public" thing. Another weird thing: It's headed by a lobbyist and executive who worked for BP America during the Deepwater Horizon spill in the Gulf of Mexico. Oh, and one of its
guiding principles
is to be a partner in economic development. In short, it's largely viewed a watchdog ... on a very, very short leash — if not on serious quaaludes.
If all that sounds unfair to the agency, consider the way it released information about plans to increase the amount of water Nestlé pumps out of the ground.
MLive's Garret Ellison says
that watchdog group Michigan Citizens for Water Conservation ...
... wasn't aware of Nestle's new plans until being contacted by MLive. The Nestle proposal was published last month in the DEQ Environmental Calendar, a bi-weekly clearinghouse for permitting decisions, new administrative rules and other official notices that is not widely read by the general public.
In other words, DEQ seems to have
very, very quietly
informed the public it had a right to comment on the matter. So quietly, in fact, that the a major environmental group engaged on the issue missed it entirely. In other words, when journalist Ellison contacted the group's vice president Jeff Ostahowski for comment, it was the first time Ostahowski had heard of it. Funny coincidence there, huh?
Another coinkidink: Gov. Rick Snyder's former chief of staff is married to Nestlé's spokesperson.
As of Halloween, a DEQ staffer said the agency hadn't received any public comment on Nestle's proposal. The comment period ends officially tomorrow.
Does that seem a little sneaky? Tens of thousands of people all over Michigan rely on groundwater for daily use. Doesn't it seem important that those people should have had a say in the matter? Exactly what kind of "partnership" with economic development does DEQ have? We'd love to discuss those questions more but ... we're out of time.
You can still submit written comments to Carrie Monosmith by email at [email protected], or by mail to Michigan Department of Environmental Quality, Office of Drinking Water and Municipal Assistance, P.O. Box 30241, Lansing, Michigan 48909-7741. Comments received by November 3, 2016 will be considered in the decision prior to final action. Information Contact: Carrie Monosmith, Office of Drinking Water and Municipal Assistance, 517-284-6535; or [email protected]