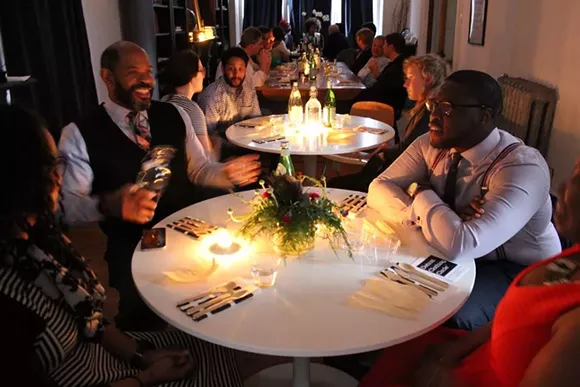 The concept of dining as a platform for protest is just beginning to take shape in Detroit and across the country.
Events like the "Blackness in America" dining series led by former Detroiter chef Tunde Wey have been making the rounds nationwide (including in Detroit last spring). The dinners provide diners a purposeful "black space," where issues of race and identity can be discussed freely without feeling marginalized.
Similarly, an ongoing pop-up, Peace Meal Kitchen, feature worldly cuisine to bring about understanding about often-misrepresented countries like Iran and Palestine.
In describing this newest culinary movement, Wey, in an
essay posted in Civil Eats
, compares the purpose of dining to music, quoting pioneering Nigerian instrumentalist Fela Anikulapo Kuti, who once said: "Music cannot be for enjoyment. It has to be for revolution."
Dining, Wey says, is no longer for escape, "the notion of food as art is finished; the era of dining as protest is now!"
Wey dives deep into a discussion about gentrification of inner-city neighborhoods (which he characterizes as cruel irony), the need for capital for people of color to invest in their own communities, and the lack of healthful food options that make dining "the final frontier of prejudice."
Addressing these issues, he says, results in not just as "a tool of economic and community self determination" for communities of color. Wey, a native of Nigeria, who co-founded the Hamtramck pop-up venue (revolver), explains that this shift lead to more interesting dining options, redefine what is considered "normal" in American cuisine, and lead to a healthier populace.
The essay goes into far more detail than we can sum up in this brief summery. Given our collective reawakening amid the growing "Black Lives Matter" matter, Wey's thoughts are definitely worth checking out in their entirety here.
See also:
Chef Tunde Wey introduces Detroit dinner party exploring 'blackness in America"