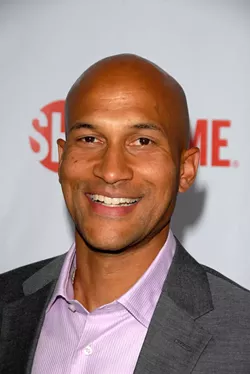 This year's Thanksgiving Day parade just got a whole lot funnier.
One of our favorite Detroiters turned celebrity, Keegan-Michael Key, has been given the honor of
co-grand marshal
of the famous parade — along with Judge Damon Keith.
If you've never seen or heard of Key's work, then let us give you a little crash course: Key graduated from the University of Detroit Mercy, was a memebr of Detroit's Second City company, became a cast member on the beloved show
MadTV,
scored his own show on Comedy Central with comedy partner Jordan Peele, and recently won an Emmy for
Key & Peele.
Needless to say, he is killing it.
Key hasn't forgotten his Detroit roots, which makes this announcement even better.
Last December
, he performed with the improv troupe the 313 at the DIA, and is always a strong supported of the city.
We're so excited to see Key participate in the parade, and keeping our fingers crossed for an improv performance, too!