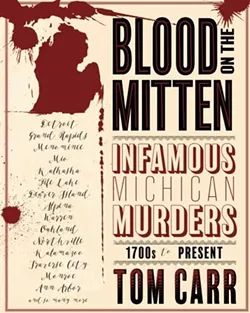 A book just came out this year that seizes on more than 50 of the bloodiest bits of 300 years of Michigan history and presents them in a 160-page book. By our reckoning, that's about three pages per scalping, but that's probably a good thing, as the book seems to be a page-turning, breezy jaunt down a blood-soaked memory lane, right down to gory photographs. And the book has earned praise from reviewers, including Ben Hamper of
Rivethead
fame.
It's called
Blood on the Mitten: Infamous Michigan Murders from the 1700s to the Present,
and it tells the stories of some folks who have just the scarcest Michigan connections, such as merely having been born such as the assassin who killed President McKinley in 1901, or Timothy McVey, who met with Terry Nichols at a farm in Lamotte Township. But many of the stories concern the local lore you'd expect, of course, such as "Co-Ed Killer" John Norman Collins, labor goon-king Jimmy Hoffa, the Good Hart murders, and the untimely death of Michigan's only recognized noble, King Strang. There's also good, old-fashioned mayhem in there, such as the 1967 civil disorder in Detroit, or the Bath School Massacre, in which a frustrated school board treasurer who blew up his home and most of a school, killing 44 people, including 36 schoolchildren. And sure, there are mob hits associated with Detroit's infamous Purple Gang.
Author Tom Carr, a longtime journalist up in Traverse, says the book has been selling well in his part of the state, and he's doing a tour of a dozen Michigan cities to help publicize the book. It's a good time, too, with Halloween spookiness in the air — and the profitable holiday season on the way too! He'll be appear 10 a.m.-3 p.m. Oct. 29 at Northville's Next Chapter Bookstore & Bistro, 7-8:30 p.m. Nov. 1 at Rochester Hills Public Library, and 7-8 p.m. Nov. 13 at Monroe, Ellis Library & Reference Center in Ypsilanti.
But the big kahuna will likely be his appearance the night before Halloween at leading local independent bookstore Book Beat, 3:30-5 p.m. at 26010 Greenfield Rd., Oak Park; free and open to the public; 248-968-1190; thebookbeat.com.
Blood on the Mitten
is $14.95 and published by Mission Point Press.