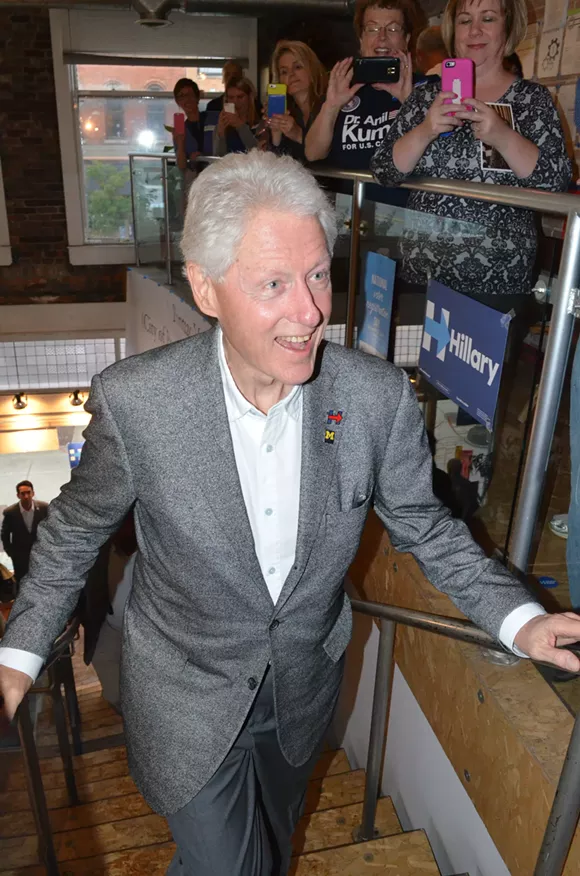 Dozens of supporters at Hillary Clinton's Pontiac campaign office came to see Sen. Gary Peters and U.S. Rep. Brenda Lawrence on Monday — but they didn't know a third prominent Democrat was swinging by.
After Peters hinted "we might have a special guest coming," former President Bill Clinton came up the steps at the Saginaw Street office to loud cheers. Before arriving in Pontiac, Clinton had been stumping for his wife's campaign at the University of Michigan-Flint.
Clinton spoke on the economy, the Affordable Care Act, bipartisan support his wife has received, and of course Republican presidential nominee Donald Trump.
The former president's swing through Michigan is further evidence that the state is a campaign priority, with both parties' nominees making multiple visits in recent months.
The 70-year-old Clinton, who was dressed in a gray suit, said the country is experiencing its 79th month of job growth: "It's the longest stretch without any job loss month in our history since we've been keeping statistics."
The economy needs further improvement, however, Clinton said, with "higher income, more upward mobility, and less inequality," and he argued that his wife's plan for infrastructure improvements, a manufacturing revival, and small business lending will close the gap.
"That will do the trick if we also do what we need to do in making college free for everybody with an income of $125,000 or less," he said to applause and cheers.
Clinton said he spoke with a longtime friend in Flint on Monday who summarized the election in a single sentence.
"Tell people if you don't want someone to drive the truck off the cliff, do not give them the keys," he said.


After he spoke, Clinton left the building and briefly walked down Saginaw Street in front of the Crofoot Ballroom to shake hands and chat with bystanders.
Peters told MT that Clinton's appearance reflects the importance of Pontiac, Oakland County, and Michigan to the outcome of the election.
"It'll help turn out Democrats, which is going to be necessary for us to win," Peters said.