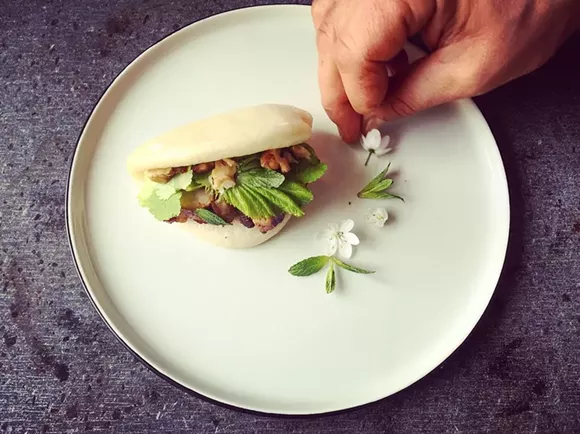 A former New Jersey health insurance executive, who left a six-figure income to work under the growing Zingerman's empire in Ann Arbor, is soon to open a Korean restaurant in the city's Kerrytown neighborhood.
Under a partnership with the Ann Arbor-based family of companies, Ji Hye Kim is expected to open
Miss Kim
in mid-November, a Zingerman's rep confirmed with us. The restaurant is the evolution of her San Street Food cart and subsequent pop-up, which features a variety of Korean street food like pork buns, and spring rolls.
MLive published a lengthy
profile
last year about Kim's culinary journey. In it, the news site describes that Kim first became aware of Zingerman's from a NY Times article written during the company's 25th anniversary. At the time, she was drawn to the company's focus on business ethics, long-range plan, and customer service approach.
From there, Kim (a U of M graduate) dropped her insurance industry career path and took a job at the deli counter. After learning the ropes of the company on the retail side (as is common for Zingerman's partners), Zingerman's backed her financially to launch San Street Food.
Next came a pop-up at The Bar in Ann Arbor, where Kim got to experiment with her menu, as well as trips to NY and South Korea, where she researched how different audiences responded to Korean street food.
Now with this latest venture, Kim will put her years of preparation to use with Miss Kim, which will open at 415 N. Fifth St. A series of soft opening will be held in the weeks ahead. We will keep you posted about menu details and the exact opening date.