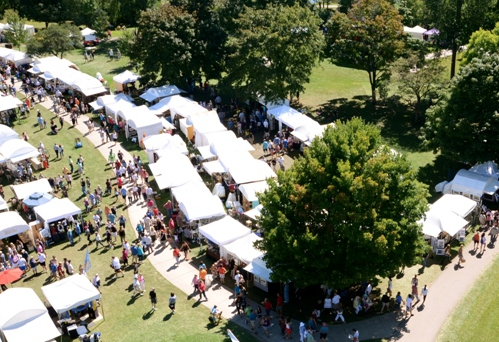 Around this time of year, we Americans are hardly done with one season before being rushed into the next one by the marketing department. We're so used to complaining about it and it just seems to get worse. It used to be that Christmas caroling choruses would hijack the mall P.A. system around Thanksgiving. That coup has crept back so far that it almost seems to take place when you're hanging your first Halloween decoration. Children may as well dress as little Santa Clauses.
And then there's the big harvest push, a sort of weird, Halloween-free marketing push that we suspect has something to do with catering to holy rollers anxious about what they see as Halloween's satanic connotations. These days, you haven't even washed off the last of your sunscreen before somebody is pushing you to accept pumpkin-spiced beer, or pumpkin-cream latte.
Does it ever occur to these people that the only reason we eat pumpkins is that they are harvested after all the much better plants we love eating during summer have stopped producing? That our ancestors were so sick of choking pumpkin meals that they were out in the deep snow in early March digging for parsnips? That your typical Puritan circa 1700 probably felt the same way about pumpkins that prison camp survivors feel about gruel? It's ridiculous. Fall doesn't begin until Sept. 22, and it's almost 90 freakin' degrees outside today! We're surprised they aren't offering pumpkin-scented suntan lotion at this point ...
OK, enough complaining about pumpkins. Here's something we're much less likely to complain about: apples. You can harvest some varieties of them as early as August. They're sweet, and need no spicing. And they make a mean cider. (They also make an even better hard cider.)
And what goes better with apples than art?
Yes, it's Paint Creek Center for the Arts' Arts & Apples celebration, taking place this weekend. We've already written about the
chalk art competition
that will adorn the walkways near the Pine Street entrance to Rochester Municipal Park, and will wind colorfully around the sidewalk north of the duck pond. But the park will also host live entertainment, ranging from jazz to rock to high school marching bands. There will be plenty of food vendors, and the apple pie and dessert baking competition. (Notice how that's "apple" pie? The word pumpkin scarcely appears!)
So if you're looking for a family-friendly good time that could fuel the imagination and artistic aspirations of young ones, you could do worse than taking them to the Apples & Art Fair.
Apples & Arts runs 4-7:30 p.m. Friday, Sept. 9, 9 a.m.-7:30 p.m. Sept. 10, and 9 a.m.-4 p.m. Sept. 11. For more information, see
pccart.org/art-apples-festival
.