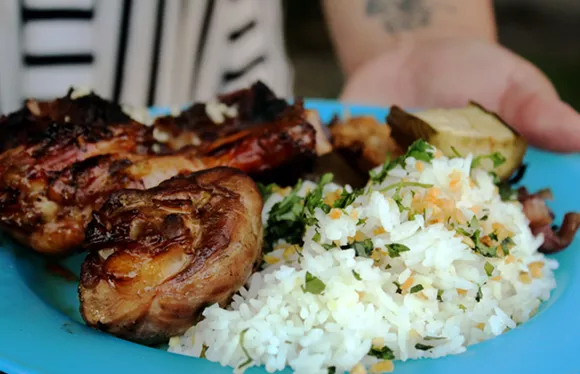 Chinese, Vietnamese, and Thai food tend to come to mind first when thinking of Asian cuisine. As of late, more chefs across the country are pushing to bring Filipino fare to Americans' palates by hosting traditional
kamayan
feasts.
The dining event involves eating an extravagant, multi-course communal meal with your hands off of banana leaves. Foodies in cities like NYC and Los Angeles have been holding such dinners to great
success
.
Here in metro Detroit, the Filipino-inspired Sarap pop-up has also been experimenting with the concept. Come Sept. 19, the Sarap crew will join forces with Seattle chef Garret Doherty of Kraken Congee for one such event to be held at Brooklyn Street Local.
Sarap proprietors Dorothy Hernandez and Jake Williams traveled to Seattle earlier this summer as the featured guest chefs of the eatery's Kasama Dinners series. The Seattle restaurant started off much like Sarap, as a pop-up before opening a brick-and- mortar spot following an appearance on CNBC's "Restaurant Startup."
"We are so excited to bring Garrett to Detroit because he is so passionate about Filipino food and his style and (partner) Jake Williams' styles really complement each other," says Sarap co-owner Dorothy Hernandez in a statement. "We thought what Garrett was doing with the Kasama Dinners, which feature new and innovative takes on Filipino cuisine, was such a great idea to raise up our food and culture so we wanted to do the same in Detroit and introduce Garrett to the food scene in the Motor City."
The event will host two seatings, 6 p.m. and 8:30 p.m., and tickets go for $45
(click here for tickets).