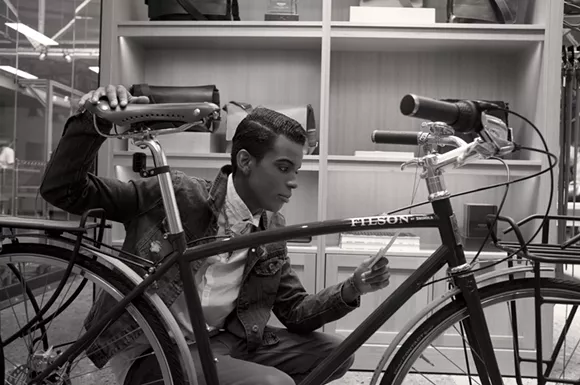 Detroit-based performance artist/musician
Duane Gholston
may be 24 years-old, but he already has a long history (and we have loved his confrontational work ever since we first encountered it). Over the last six years he has recorded and performed as both
Duane the Teenage Weirdo
and
Duane the Brand New Dog
.
And today, we are super excited to bring you his first work under his new project name,
Duane the Jet Black Eel
. This project abounds with Duane's signature button-pushing brand of rock and roll marketing. Allow us to premier the Jet Black Eel's debut single, "Catch Me If You Can." Find it on
Bandcamp
,
Spotify
,
Apple Music
, and
Soundcloud
.
Duane will open up for Seth Bogart (Hunx and his Punx) at the UFO Factory on September 23.
Some of the concepts behind the new project are below in his written statement. So glad to have new work by Duane!
"The Jet Black Eel is the embodiment of the artist's own inner freak. Spawned in unknown waters but somehow traveled through the river bends of fate to the city of Detroit, Michigan. Where he grew to let his inner eccentric blossom. At the turn of the current decade he witnessed the arrival of other outside beings who came to usher in the era of the so called "New Detroit". Intrigued by the new settlers in his homeland he chose to imitate their image to slip into their spotlight.

Of course the previous lines were all just part of the new myth. Duane wasn't born anywhere "unknown"and he didn't travel from anywhere to his current location. He was born and raised right here in Detroit, Michigan. Duane himself is not a new artist. The Jet Black Eel is only the artist's latest creation. Performing and independently releasing lo-fi electronic music for the last 6 years, the 24-year-old artist is almost a veteran in the local music scene. He keeps himself fresh by revising his sound, image and even name every few years.

First he was The Teenage Weirdo performing lo-fi 80's inspired dance music opening up for local rock heroes such as Timmy Vulgar's band Human Eye and Jack White. In January of 2012 White's label Third Man Records released a 7" single for Duane the Teenage Weirdo. A few months later he signed a record contract with UK indie label XL records, but no substantial releases came out of that union. So in 2014 Duane reemerged as The Brand New Dog, releasing 90's inspired house/techno tunes. 2 EP'S, a 12" vinyl single (released through local house label Chambray records) and a full album titled CD-R LP were released during this period.

It was during this period where he was beginning to take full command over his professional output and truly start acting as an independent recording artist. In the summer of 2015 he performed his first live show outside of Michigan (All the way in Warsaw, Poland!) for the annual Festival of the Artists at the Zacheta national gallery of art. Coverage of his Brand New Dog music included various local and national news outlets such as Playground Detroit, Assemble Sound, AfroPunk, Detroit Free Press, Metro Times, etc.

Now it's the year 2016, and instead of riding the steady wave he created as a lo-fi electronic musician, he has other artist endeavors to tackle. In comes the Jet Black Eel! Out with the oversized blazers, French berets and black lipstick. In comes the slicked back, side parted hair, plaid tops and loads of all American blue denim. The new look is all part of a light hearted tongue and cheek joke mocking the classic American apparel romanticized by the retailers targeting modern day yuppies, hipsters whichever term deems appropriate. It all takes jabs at the so called "New Detroit" movement making national headlines in the blogosphere over the last 5 years. A sort of reverse cultural appropriation if you will.

The sound is totally different as well: Seventies inspired classic rock mixed with the garage rock sound made famous by Detroit in the early 00's. It's rock 'n' roll filtered through the eyes of a young queer man of color coming of age in the new millennium. Buried under the distorted chugging guitar riffs are lyrics that tongue and cheekily reference racism, homophobia in African American community, politics, and other blog worthy social issues. So don't let the nostalgic hard rock sound fool you, Duane is truly a child of the modern social media keyboard warrior age!

The year 2016 is just the humble beginning for the newly self-proclaimed Jet Black Eel. His self-released single "Catch Me If You Can/This Eel Be Slippin' On" is out now. An EP and full length album (with songs all about Detroit!) is in the works and he is currently looking for a label for an official wide release. Check the official social media pages for updates."