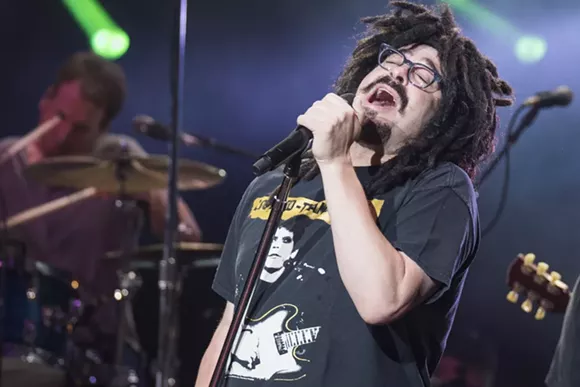 So many shows this summer at DTE Energy Music Theatre have brought folks back to the songs of yesteryear — Joan Jett, Heart, ZZ Top, hell even Vanilla Ice and Coolio — but no other bands brought back the nostalgia than Counting Crows and Rob Thomas on Tuesday night. The dream of the late 90's was alive and well on that massive hill that night.
Rob Thomas started out the evening with a fired up performance that just made you wish that the rest of Matchbox Twenty was there with him. What was clearly evident from Thomas' performance was that the singer/songwriter has a huge back catalog of fantastic Matchbox Twenty songs and from his solo career.
It was even hard for fans to tell the difference between some Matchbox songs and Thomas' solo work. Hits like "Her Diamonds," "Unwell," and the ultimate Matchbox song, "3 A.M." flowed together very nicely in Thomas' set.
A highlight of the set was when Thomas paid tribute to the great Purple One, Prince, in a roaring cover of "Baby I'm A Star" a
Purple Rain
deep cut that got most of the people on the lawn to stand up and dance.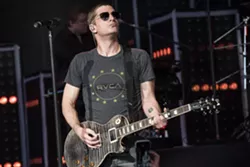 Thomas ended the set with a rendition of he and Santana's massive hit "Smooth" and I thought I was living in 2000 all over again.
Next up was one of the greatest bands to come out of the 90's scene, Counting Crows. The band has definetley slowed down in the past couple of years in terms of releasing new music, but they have still stayed just as relevant and have such a devoted fan base.
Frontman Adam Duritz has now gained an almost iconic status based off his signature voice and hair alone. The man speaks very eloquently and his pipes haven't aged at all. Songs like " Omaha" and "Recovering the Satellites" really showed off Duritz's range and control all at the same time.
As their set moved along, it was clear that a lot of the fans were just there to hear "Mr. Jones" (myself included). Counting Crows don't have as many hits as Rob Thomas/Matchbox Twenty, but they can still pack it in at DTE even when their latest release came out in 2014.