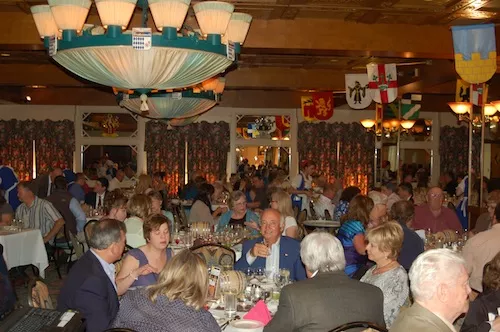 As we pointed out
in a recent cover story
, Michigan's agricultural diversity makes it a standout: Not only do people grow more varieties of fruit and vegetable in Michigan than almost any other state, it's also a proving ground for all sorts of interesting agricultural pursuits, whether raising cows the old-fashioned way, being a thoughtful beekeeper, or blazing new trails in aquaculture.
Of course, Bavarian Inn Restaurant is no stranger to these sensibilities. Heck, at more than a century old, the restaurant was using organic ingredients grown the old-fashioned way in … well, in the old days themselves!
But these days using local ingredients is something special, and the restaurant rightfully toots its own horn a bit when doing something like their upcoming "Purely Michigan Dinner," coming this Friday.
It's a four-course collection of homegrown Michigan, on the plate and in your glass, with food and beverage pairings that involves the product of more than a dozen Michigan growers, brewers and other suppliers. The meal showcases products from southwest Michigan, the Traverse City area, and a number of producers in both Frankenmuth and metro Detroit.
The first course pairs such beverages as Lucky Stone Hard Cider and Tongue Tied Cherry Saison with a selection of hors d'oeuvres that includes Southwestern polenta cake, roasted cauliflower with porcini aioli and summer giardiniera blend. After a salad course, a Chateau Grand Traverse Semidry Riesling is paired with veal saltimbocca with truffle potato gnocchi. A blueberry dessert rounds out the meal.
Erwin Styma of Styma Potato Farms will also offer some words about using locally produced ingredients in cooking, and representatives from the Frankenmuth Farmers Market, Rochester Mills Beer Co., and the Saugatuck Brewing Company will be on hand.
Then there's just the kitschy fun of enjoying Bavarian Inn Restaurant's atmospheric dining room, with its period trappings, heraldic flags, and dirndl-wearing servers.
The meal begins at 6 p.m. Friday, Aug. 26, at the 125-year-old Bavarian Inn Restaurant, 1 Covered Bridge Lane, Frankenmuth; meal plus drinks, tax and tip is only $60; reservations are required, and can be made by calling 989-652-9941; bavarianinn.com.