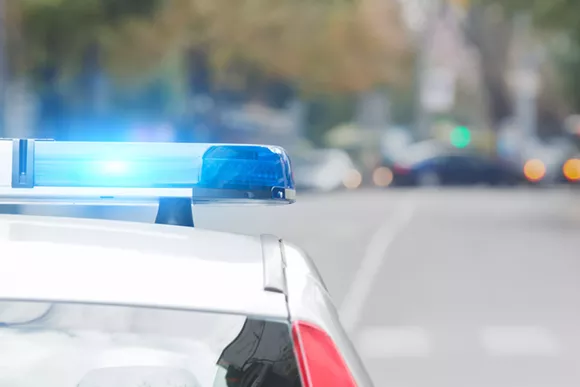 (In an effort to be fully transparent I'll first disclose that I'm a lifelong resident of Downriver, where my father was a police office for two and a half decades. I grew up in Wyandotte, where I live now and only moved to Trenton for a brief time.)
With all that being said, what the hell is going on with the police Downriver?
Last weekend two separate reports were released about the unsettling actions of local officers and police departments. First, the city of Southgate recently appointed Brian Klonowski to chief of police, despite his 2004 arrest for aggravated assault and subsequent conviction.
According to a 2005
News Herald
article, Klonowski was at a party 12 years ago with a woman named Gina Falconer, whom he "harassed" throughout the night. While some witnesses say that she then threatened to hit him with a beer bottle, others says she attacked Klonowski unprovoked. Despite what happened prior, the off-duty police officer then repeatedly punched Falconer in the face until her nose was broken, her right cheek was fractured, her right eye hemorrhaged, causing it to swell shut and require stitches.
Klonowski pled no contest to the misdemeanor charge and on Aug. 5 was sentenced to $2,000 in fines and costs, 30 days in a work program, 60 days on an electronic tether and 18 months of probation by 34th District Judge Brian Oakley, according to a 2005
Free Press
story. He also faced a year-long suspension from the Southgate police force. But that punishment didn't really stick.
Then Mayor Dennis David reinstated Klonowski after only three months of his suspension, much to the dismay of then police chief Larry Hall who said, "It's really sickening — it's unbelievable. It creates the perception that misconduct is tolerated in the Southgate Police Department." At least someone in this situation had some sense.
Now, somehow, this errant officer has risen to the Southgate Police Department's highest position. And people are
questioning
if he's right for the job, according to a
Fox 2 Detroit
story.
Here's the answer to that question: He's not right for the job.
Any man who beats a woman until her nose is broken and her eye is swollen shut, should not be leading and commanding a force of armed officers. Period.
I don't care if it was 12 years ago. I don't care if he went through anger management classes.
And if you can't find someone better for the job, there is a much, much bigger problem at hand.
"I understand the unfortunate circumstances — the embarrassing situation, and it was 12 years ago," Klonowski says in the Fox 2 Detroit story. "I dealt with that on three levels — criminally, civilly, and departmentally' and have attempted to put that behind me and attempted to increase my professionalism."
Increase your professionalism? I think I'm more concerned about your humanity and your lack of respect for it. Guys, this is bad.
And things aren't a whole lot better in Brownstown Township, where an officer with a well-documented past of alcohol abuse is still working the force.
Sergeant Michael Patrick McCarthy was pulled over in Las Vegas last Super Bowl Sunday after swerving across lanes and jumping a curb, but that wasn't the first time he'd be caught drunk driving.
According to a
wxyz.com
story, in 2006 McCarthy was pulled over and admitted to having imbibed five to 10 beers before getting behind the wheel. The arresting officers claim they were "forced" to give him special treatment, despite wanting to charge McCarthy for his crime. This was
after
he'd been accused of being drunk during an investigation.
So, what happens to a Brownstown Township cop who's been arrested for drunk driving and has a history of abusing alcohol? Do they get dismissed from their post? Nope. They get put on leave.
Unfortunately, incidents such as these are not out of the ordinary in any given police department and they're indicative of the problems that riddle local police departments in America.
So, what's the solution? How about we no longer employ and promote people convicted of aggravated assault or those known to abuse alcohol and get behind the wheel as public servants. How about we don't pay these people with our tax dollars? Let's just
start
there.