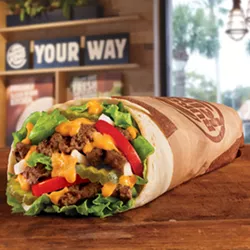 2016 is turning out to be the year of the burrito.
After Chipotle had its snafu with a series of foodborne illness outbreaks, the once leader in burrito-making is working hard to recapture its audience with coupons and a loyalty program. Then starting on the west coast, we've been seeing a flood of sushi burrito concepts - wherein flour tortillas and carnitas are swapped out for nori and poke.
Now Burger King, the folks who've brought us such mashup foods as Mac 'n Cheese Cheetos, is jumping on the pseudo-Mexi bandwagon with the Whopperito - debuting nationwide Aug. 15 ($2.99).
The Whopperito is, well, just what you think it is. Take the ingredients that make up the chain's famous Whopper - ground beef, lettuce, tomatoes, onions and pickles - and switches a bun for a tortilla wrap (for added effect the burrito Whopper will feature a queso sauce).
Bloomberg
says
BK's foray into the burrito category could be seen as taking aim at Chipotle, which is still struggling as Americans are eating there less often because of outbreaks of E. coli and norovirus.
The question is, will these new hybrids taste good? Bloomberg goes on to say that the Whopperito was first tested out in June by a franchisee with locations in Ohio and Pennsylvania. The initial reaction must have been positive if BK has moved to introduce it to a national audience.
Locally, we've seen similar ideas, like the cheeseburger egg roll at The Peterboro take off in popularity. We'll have to make sure to mark our calendars and see for ourselves.