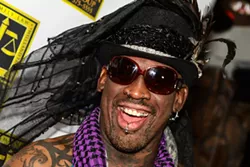 5x NBA Champion
2x NBA Defensive Player of the Year
7x NBA Rebounding Champ
3x ..... Dick Breaker?
Dear readers, it's time to get reacquainted with Dennis Rodman.
Donald Trump's token black friend
has long invoked memories of the beloved Detroit Pistons 'Bad Boys' teams, although recently, he likely invokes memories of dyed hair, cross dressing, and
banging Madonna
.
The former athlete/wrestler/actor recently made waves after appearing in a YouTube clip for
Viceland
, describing 3 different ways to break your penis., in graphic detail (ie: All I heard was SNAP! Blood squirting everywhere).
One of said instances did in fact happen while he was playing for our hometown Pistons, which begs one to wonder if that's why he
fell just short of the infamous tip-in that would have clinched the 1988 Finals
. Hard to jump with a shattered penis. A boy can wonder.
The medical term, we learned, is "Contused Penis Syndrome", and apparently it took eight different doctors in the room to figure that out. College educations literally hard at work. Get it? Hard... nevermind.
Dismantling your genitals can apparently have it's benefits, however, as pictures of alleged broken dick were sold to papparazzi for a $25,000.
He's now taking it all with a grain of salt, or multiple pills, actually, and get's right back to work.
"She's screaming and screaming, 'Oh my God, he's dead,'" Rodman recalled. "I said, 'No, honey, I just broke my dick.'"
Never change, Dennis.