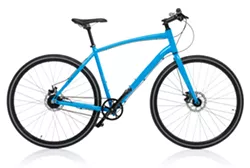 A vendor has been selected for a public bike share system that's set to launch in downtown Detroit in spring 2017.


Shift Transit will supply 420 bikes and 42 stations for Detroit Bike Share, according to the city and the Downtown Detroit Partnership. Riders will be able to rent bikes on a short-term basis using wireless, solar-powered kiosks, according to organizers.


"Bikes are a convenient, affordable, and fun way to connect people to jobs, school, services, and recreational opportunities, and as Detroit becomes more mobile, Detroit Bike Share will increase the number of options for people to get where they need to go," Lisa Nuszkowski, Detroit Bike Share's executive director, said in a statement.


The contract with Shift Transit received Detroit City Council approval on July 22, and was selected through a competitive bid process, according to the Downtown Detroit Partnership. The hardware for the program will come from PBSC Urban Solutions.


Dan Dirks, director of the Detroit Department of Transportation, said the bike sharing system will provide another transit option for residents.


"Bike share will help expand the reach of not only DDOT's services, but other transit modes as well," Dirks said.


In the fall, downtown stakeholders will have an opportunity to give input on where the bike sharing stations should be located, the Downtown Detroit Partnership said; stations will be located near DDOT, SMART, People Mover, and QLine stops.