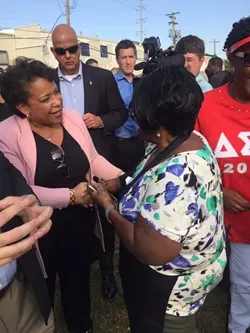 U.S. Attorney General Loretta Lynch sought ideas Wednesday on how relations between the community and police can be improved at a first-ever Justice Forum held at Wayne State University.


Lynch will also meet with community leaders in Dearborn — where two black Detroiters have been shot and killed by police since December — while in town, according to the Detroit Free Press.


"Today, what I want to hear from you are concrete ideas about how community members and local law enforcement can begin to repair broken bonds," Lynch said in prepared remarks delivered at the McGregor Memorial Conference Center on the Wayne State campus.


Lynch spoke Tuesday along with District Attorney Barbara McQuade, Detroit Police Chief James Craig, and Mayor Mike Duggan at a National Night Out event on the city's west side.


The Justice Department's 13-year-long oversight of the Detroit Police Department ended in March with an order from U.S. District Judge Avern Cohn, according to the Free Press. The period of federal oversight began in 2003 with two consent decrees after accusations of unconstitutional police work.


The attorney general's visit comes after a spate of police-involved shootings across the country, including the deaths of Alton Sterling in Baton Rouge, La. and Philando Castile in St. Paul, Minn. Lynch's Justice Department is conducting a civil rights investigation of Sterling's death, while Minnesota Gov. Mark Dayton has called for a similar federal investigation of the Castile shooting.


At a July 7 Black Lives Matter protest in Dallas that followed the Sterling and Castile shootings, shooter Micah Xavier Johnson killed five police officers and injured numerous others before being killed by police early the following morning using a bomb-carrying robot.


Lynch referenced the killings indirectly in her prepared remarks in Detroit: "I firmly believe that in the face of recent tragedies, we must not give in to cynicism or despair."