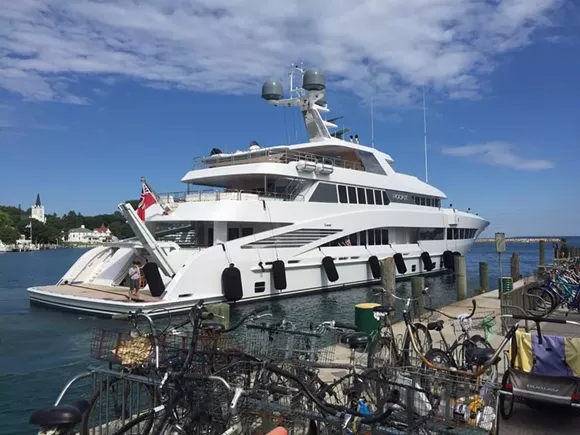 Unfortunately, it looks like Kid Rock is in the news again.
The artist formerly known as Robert James Ritchie has been making waves (heh) lately after he was spotted near the shores of Mackinac Island aboard a swanky 198-foot yacht.
Photos of the "musician" were posted and shared on the
Mackinac Island Dockporters Association
Facebook page.
As with any photo of Kid Rock, Kid Rock himself is by far the least interesting thing in the picture (
and the least valuable
). The real MVP here is the yacht. The boat, owned by mediocre-sandwich mogul Jimmy John Liautaud, has been appraised by
SuperYachtFan.com
for $100 million.
The yacht is also named "Rock.It." Get it? Do you get the joke? "Rock.It," as in "Rock it," as in "Kid Roc-," oh forget it.
Neither Mr. Rock or his associates have publicly acknowledged the photos, so as of this writing it's unknown what Rock is doing on his yacht tour. Is he psyching himself up for his
next tour date in Wisconsin
? Is he reminiscing about the days when every redneck played "All Summer Long" at their wedding? Has he returned from the depths of hell to reap the souls of the non-believers?
What are you planning Rock?
For the first time in your career,
we're watching you
.