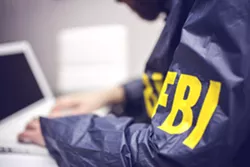 Charges were filed Monday against a Detroit man who allegedly "bought high-grade explosives from an undercover agent after amassing an arsenal of weapons and talking about carrying out an attack," reports the
Detroit News
.
The charges against Sebastian Gregerson, 29, (nee Abdurrahman Bin Mikaayl) came to be after a 16-month undercover FBI investigation.
As the
News
points out, the charges come at a pointedly heated moment in U.S. and international politics, when fears of terrorism attacks and mass-shootings are particularly tense.
Of course, the paper also points out that it is still not-confirmed
why
Gregerson was purchasing the explosives or if he was actually planning a terrorist attack;
FBI "entrapment"
— the targeting of vulnerable people in the name of catching "terrorists" — has been an issue that has entered the spotlight on-and-off over the years.
As
The Guardian
wrote in 2011, "Critics say the FBI is running a sting operation across America, targeting – to a large extent – the Muslim community by luring people into fake terror plots. FBI bureaus send informants to trawl through Muslim communities, hang out in mosques and community centres, and talk of radical Islam in order to identify possible targets sympathetic to such ideals."
While Gregerson was investigated after a source tipped the agency off that Gregerson allegedly had grenades and bazookas — a bit different than being targeting first — important contextual questions remain around his case.
Currently Gregerson, who appeared in court Monday wearing handcuffs and ankle chains, faces up to 10 years in federal prison if he is convicted of unregistered possession of a destructive device and unlicensed receipt of explosive materials.
He is due back in court on Thursday, when a judge can decided whether or not to keep him locked up until the trial. He is currently being held without bond.
The
Detroit News
is reporting that a "
Facebook account belonging to a user with the same name, and a hometown of Dearborn, includes an image of a man riding a horse and carrying an Islamic State flag" and the same account has a post of a meme alluding to shooting
sprees
.

A LinkedIn profile for "
Abdurrahman Gregerson"that the
News
found says that a man by this name works in logistics and supply chain at Target and previously was employed by Wal-Mart. The profile notes that this individual is studying criminal justice and law enforcement administration at Henry Ford Community College and under "skills" lists firearms instruction, survival training and security.
For more background on the case check out the full
Detroit News
story
here
.