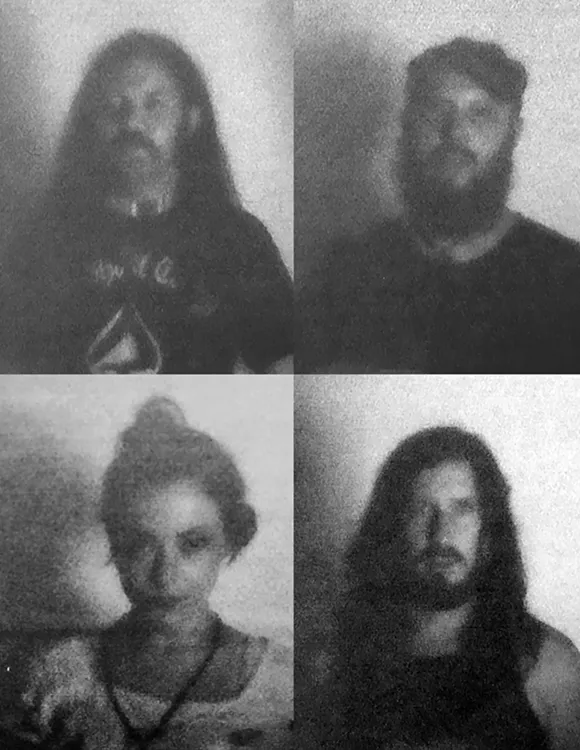 Get ready for their epic show this
Saturday., Aug. 6 at the Irish pub O'Mara's in Berkley, Mich.
by listening to this amazing new song on repeat multiple times in a row.
We are lucky enough to have heard multiple tracks from His Name Is Alive's forthcoming album
Patterns of Light,
and "Calling All Believers" is a super glimpse into its expansion of the HNIA palette further into both ear-destroying heavy prog heaviness and fluffy, delicate, almost Broadcast/Free Design-level genius vocal delivery and arrangement.
You've genuinely never heard anything quite like this album. It might be the band's finest moment, ever. And is easily going to be one of the five best albums of the year.
Patterns Of Light
will be released on Oct. 28 by London London Records, on LP, CD and digital formats. In addition to the Irish pub show, HNIA is co-headlining the excellent
Athens Pop Fest
on Friday, Aug. 12 so tell your friends in Georgia not to miss it.
Few people actually write entertaining and informative press releases, but Warren Defever, the lead songwriter behind the band, actually does, so here you go:
Soon after Tecuciztecatl was released we were invited to perform at the large hadron collider at CERN in Switzerland by one of the scientists, sort of an experimental-music-meets-experimental-science type thing, so I immediately began studying particle physics to get up to speed. I asked the scientist to share his notes with me, diagrams, screenshots, or anything to help me get deep into this project. Mostly he said no but then I offered him the compromise of sending him lyrics and chord charts based on my frequent misunderstanding of the fundamentals of the Standard Model and he could "fact check for bad data, misquotes, dragons, pseudoscience and make sure the witchcraft to physics ratio wouldn't be too embarrassing" for him. Realizing what he was up against he quickly agreed to send notes, papers and also recommended books, videos and answered a lot of my simplistic questions. Patterns of Light is the album that resulted from my studies and exchange of information.

The research focused on dark matter, dark energy, the search for extra dimensions, mini black holes and the machinery that last year was colliding particles at high speeds using thirteen teraelectronvolts (13 TeV aka the most electricity ever used to do anything) but also studying the fundamental forces of nature got me turning to the classics, creation myths, the visionary theology of Hildegard Von Bingen, medieval manuscripts and cosmic maps, all in my effort to turn the physics back into poetry.

Personnel
Andrea Morici vocals, mellotron, moog
Warren Defever guitar (left channel)
Dusty Jones guitar (right channel), bass
J. Rowe drums, percussion
Jean Cook violin

Lyrics
Calling all believers
calling all the invisible seers
this is for the people
pray your number don't get called

This is a message to awesome
this is for the problems we both know that I caused
this is for the locators
may you find the darkest part lost

Bring your witch stand before me
stand in the light of the darkest energy
give yourself a miracle
once in the morning and again at night

I gotta get myself checked see if I'm carrying
the thing you've been sharing
a million turns a million volts
I'll give you something to help you forget

This is dedicated
to the darkest heart of matter
this is for the leavers
left in the night and lost it forever

Calling all believers
calling all the invisible seers
this is for the people
pray your number don't get called