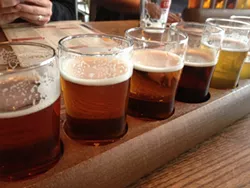 For that beer snob friend out there who can spout off the names of every brewery that ever existed, the Smithsonian National Museum of American History is looking for a beer historian for an upcoming project.
Washington City Paper
reports
that the three-year gig will pay $64,650, plus benefits for the person who can research and document the history of American brewing, particularly the post-1960s era.
"We have collected food history for many years, so when we were doing the research for the exhibition, which is all about big changes in the post WW II era in how and what we eat, one thing we were curious about is the craft beer movement," curator Paula Johnson tells the publication. "We were looking at wine, coffee, cheese, artisanal bread, and farmers markets. Well, this movement with small-scale, local regional beer is part of the ethos."
The position comes as the beer industry, particularly craft beer, is overflowing with enthusiasm. The Brewers Association, which is funding the job, reports that the number of craft breweries in the United States grew by 15 percent last year, to more than 4,200 breweries, the highest number in the country's history.
A link to the original job posting seems to have expired (perhaps interest in the job is hopping), but the D.C.-based news site posted it below (see below for more details.
To apply, send a CV, cover letter, and names of three references to: Abigail Karow at [email protected]. Applications are due Aug. 10.

Historian / Scholar American Brewing History Initiative IS-11 ($64,650 plus benefits)

The Smithsonian Food History project at the National Museum of American History, in Washington, DC, is seeking a professional historian / scholar to conduct archival and field research for a new initiative on American brewing history, with special emphasis on the craft industry. The position is located in the Division of Work and Industry and will be a three-year appointment. The successful candidate will have proven experience in scholarly research, organizing and conducting oral history interviews, writing for both scholarly and general audiences, and knowledge of material culture and archival materials. The candidate will work with members of the curatorial staff on collections work and develop content for a wide variety of programs and applications, including digital formats. Candidates with an advanced degree in American business, brewing, food, cultural, or similar specialization within history are encouraged to apply. Must be able to travel, work independently as well as within a team environment, to meet deadlines, and to communicate effectively with co-workers and the public.