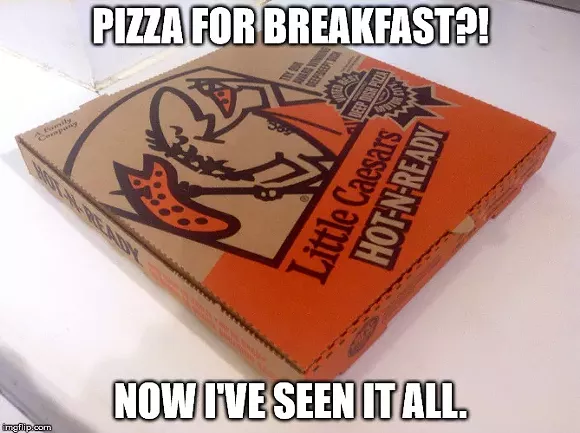 Usually pizza for breakfast simply means eating a cold, leftover slice from the night before. That could change though if a new morning menu from Little Caesars catches on.
The Detroit-based pizza chain has started to test out a number of new breakfast pizza sandwiches in select locations across the country in an effort to compete with other fast-food competitors' a.m. menus like McDonald's, Taco Bell, and Burger King,
MLive
says.
About 10 Little Caesars locations are piloting the concept, including one Michigan location - at 196 Moscow Road in Horton, about 10 miles southwest of Jackson.
The Horton outlet shares a space with a BP gas station, MLive reports, making it a prime locale for hungry motors, day and night. The news site says breakfast hours will be 6:30 a.m.-10:30 a.m. Available sandwiches include egg and cheese, bacon, egg and cheese, and sausage, egg and cheese - all between two bread-like slices that resemble a pizza crust.