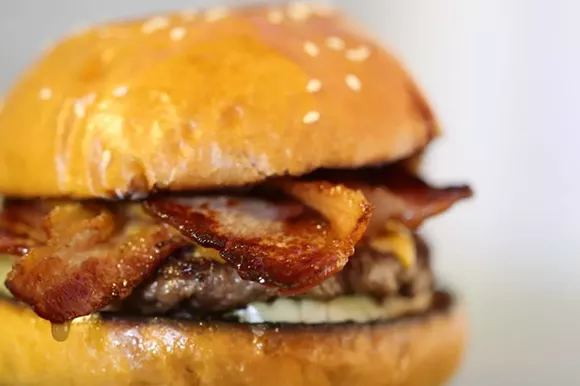 There's no accounting what some restaurants will do to build the
it
burger. In the ultimate quest to assemble the perfect patty, some turn to only the finest proprietary-blended beef and top it with bacon strips sourced from the most humane of local farms.
Increasingly, however, condiments are getting their moment in the spotlight, too. The flimsy leaves of iceberg lettuce are making way for fresh greens or kimchi. That ol' bottle of Heinz is being replaced with Sriracha, aioli, or, gasp, house-made "artisan" ketchup (our friends at
Lucky Peach
make a strong
argument
against so-called homemade ketchup). Even the simple pickle gets the special treatment in these gourmet burgers.
Case in point, we look across the globe to Mentone, Victoria in Australia, home of the recently opened Hello Patty. The spot's fare has all the trimmings of a hipster burger joint: free-range beef (brought in daily from the butcher shop next door), Greta Valley Berkshire smoked pork, and chicken, house-made pickled okra and habaneros, and to accompany them, Hello Patty turns to Detroit's very own McClure's.
Says owner Andy Gale to the food section of Melbourne-based
Broadsheet
: "I had a really big search for pickles, and McClure's came on top every time."
Doesn't surprise us all too much. McClure's products, including its spicy and garlicky pickles, Bloody Mary mixes, and potato chips have become a favorite across the United States since its founding in 2006.
Though a small component in the construction of the classic hamburger, we consider it a nice nod to see some Detroit love from all the way down under.